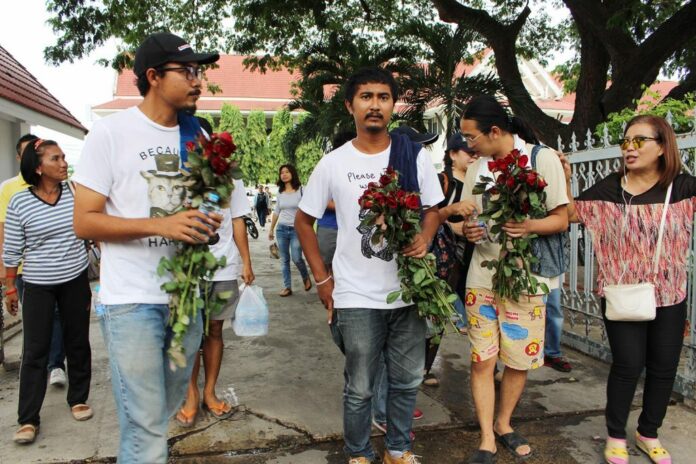 BANGKOK — Four activists and a reporter accused of violating a law passed before the Aug. 7 charter referendum have found an unlikely ally in Election Commissioner Somchai Srisutthiyakorn, whose office is tasked with enforcing the law.
The five suspects were indicted Monday for distributing "Vote No" stickers in Ratchaburi province on July 10. The provincial prosecutor said their actions qualified as a crime under the Referendum Act, but Somchai said he disagreed.
Reporter Arrested While Reporting on Referendum in Ratchaburi
The law specifically banned dissemination of materials that were "false, rude or incite unrest," Somchai said, which does not apply to the packs of stickers handed out by the activists.
"They were printed material, but were they false? Were they inciting unrest? Were they rude? No," Somchai said by telephone Tuesday. "It was just a statement of their political stance."
The election commissioner said he'd gladly take the stand and defend the activists in court.
"I'm willing to testify to the court that their actions were not wrong," Somchai said.
Four of the suspects are members of the anti-junta New Democracy Movement, while the other is a reporter for Prachatai news agency. The reporter, Taweesak Kerdpoka, was arrested and later indicted despite his protest that he was merely covering the activists' campaign.
They stand accused of violating Section 61 of the Referendum Act, which carries a maximum penalty of 10 years in jail.
According to a report published by Thai Lawyers for Human Rights group, the prosecutor also recommended that the court suspend the five defendants' voting rights for 10 years if they are convicted.
Related stories:
No Amnesty For Those Charged Under Referendum Act
More Arrested in Connection to Referendum Letters