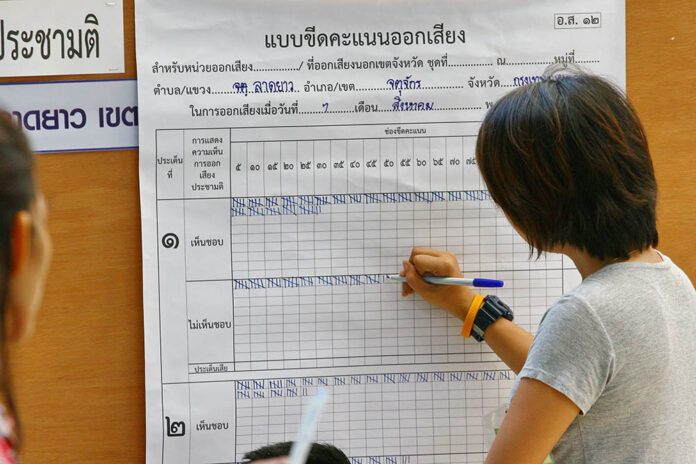 BANGKOK — Activists who boycotted the referendum called Tuesday for annulling the results of the junta-backed plebiscite, saying it was neither free nor fair from the start.
Four academics and activists said they want to see the results overturned at a symposium held at Thammasat University to discuss the outcome of Sunday's vote in which voters adopt by the charter by a large margin.
Read: Returns Show Landslide Win for Junta in Charter Poll
"We do not accept the results of a referendum that's neither free nor fair. The results should be nullified," said political activist Jittra Cotchadet at the conference, along with others calling themselves the Group of Comrades. "It was a fake referendum, it was an illegal referendum. I cannot accept it."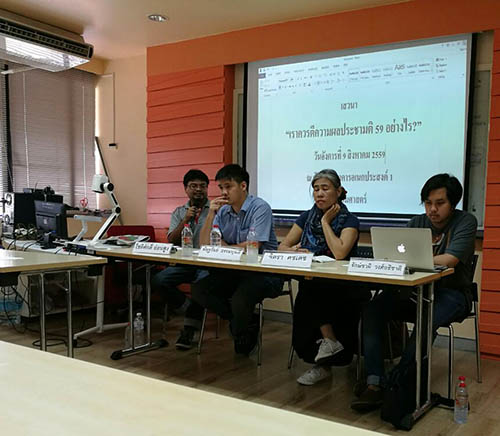 They had called the boycott on the principle that the junta had no legitimacy; therefore, its charter vote was equally invalid.
Jittra said 200 people signed on to boycott Sunday's referendum, but that number would have been much higher had the junta not criminalized the boycott effort with a penalty of up to 10 years in prison.
After months of aggressive suppression of dissent by the authorities, Sunday's referendum saw the charter supported by 61.4 percent of voters, according to 94 percent of unofficial returns.
Other activists who had a philosophically different strategy – they urged people to participate but vote no – such as the New Democracy Movement, accepted the results.
Sustarum Thammaboosadee, an assistant professor at Thammasat University's College of Interdisciplinary Studies, said there's no need for people to accept the results because it was neither free nor fair. He said a new referendum is needed.
"We should not accept this defeat. We don't need to accept the results of the referendum," Sustarum said.
Sustarum said the distortion and twisting of a credible referendum was found in the fact that its defeat would have only spelled the junta, which calls itself the National Council for Peace and Order, doing the same thing all over again for a third time.
"The choice the NCPO gave us was a charade; its outcome thus inconsequential," he said. Sustarum added that charter opponents must not vilify those who disagree with them or place them in a "gas chamber."
Jittra accused the Election Commission of only providing positive information to people while tolerating a widespread crackdown under which those who said otherwise were arrested.
"A referendum should really be about choice…We respect all votes, but we do not accept the results of this referendum," Jittra said.
She said the blame was with the military, who had no authority to oversee a vote.
"The NCPO has no right to host elections. Those who voted Yes are not our enemies. We can map a new path of struggle," she said.
Her small political party, the Democratic Force Party, would likely issue a statement formally rejecting the results.
Sustarum said the struggle for democracy activists and junta opponents would be be a long-term one.
"It wasn't the end of the world. The struggle continues. The fact that the charter has been passed is no reason to become cowed to it. We can pile on pressure, using our rights as human," Sustarum said.
Rackchart Wong-arthichart, another boycotter, said it was inaccurate to even call it a referendum.
"All the rules were wrong; we shouldn't accept it. Under such rules, there can be no win or lose," Rackchart said. "No matter how the results came out, the process was not up to international standards. So should we even call it a referendum?"
Rackcart said he's willing to join any group refusing to recognize the outcome.
Tewarit Maneechai, an activist reporter with nonprofit Prachatai news, said now is the time for rejecting the results. Sounding disappointed by other activists' decisions to accept the outcome, Tewarit said it wasn't too late for them to change their minds.
"I hope people will not accept this fake social contract. If we accept this charter draft, it's like we accept this system, and it will cause damage [to society]," Tewarit said.