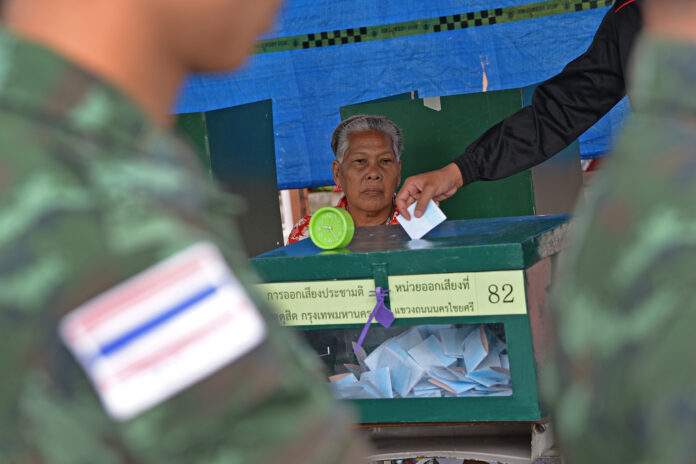 BANGKOK — Preliminary results suggest the new constitution drafted by the military regime is set to be passed by a huge margin in Sunday's referendum.
A majority of voters not only endorsed the junta-sponsored charter draft but also consented to the next set of Senate appointing an unelected prime minister to rule the country and lead a national reform effort in the next five years, according to the results
Unofficial returns had the Yes vote at 62 percent as of 6pm, with 9 million people voting in favor of the charter, and 5.5 million against. Those returns from the Election Commission's electronic filing system were said to reflect 66 percent of votes cast.
Curiously, the reported results for both questions on the ballot – one for the charter and a second about having an unelected prime minister – were pegged at 62 percent in favor, despite there being unequal numbers of both votes cast for both.
If the final results hold, it would likely cement the junta's rule and allow the regime to retain considerable influence over the civilian government beyond the next election, which is scheduled to take plane in 2017.
Some political figures say the prospects of a new election and promises of national reform might have convinced people to vote for the constitution.
"It means [majority of the] voters trust the National Council for Peace and Order, and the draft charter can eradicate politicians' corruptions," said pro-democracy activist Sombat Boonngam-anong, referring to the formal name of the junta.
Former Democrat Party MP Thankun Jitissara said "This means people want to see elections and they want to see political transition,"
Some critics of the regime blame the junta's crackdown on referendum campaigners for their defeat.
"It's a decision made by the people and despite the fact that the process wasn't fair, I am willing to accept it," Rangsiman Rome, leader of the anti-junta New Democracy Movement, said. "We have lost under these rules."
Redshirt leader Weng Tojirakarn agreed.
"The Vote Yes won without rigging, it is a result of unfairness in space for presenting different views on the charter draft," Weng said. "Thus ensuring there exist lopsided information and arrests of [Vote No] campaigners."
Additional reporting Pravit Rojanaphruk