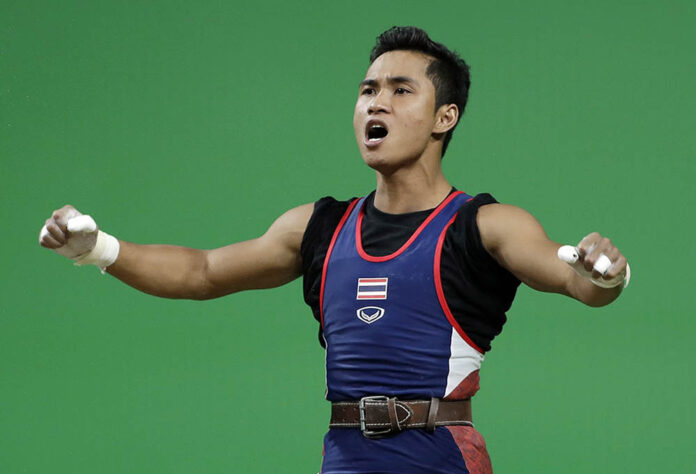 RIO DE JANEIRO — Sinphet Kruaithong became the first Thai man to medal in weightlifting, winning the bronze in the men's weightlifting 53-kilogram category Sunday at the Rio de Janeiro Games.
Sinphet was the second Thai weightlifter to win in Rio, joining Sopita Tanasan, who won gold in the women's 48-kilogram on Saturday. Nine Thai women have won medals in weightlifting.
The gold medal went to China's Long Qingquan. Long's total score of 307 kilograms set the record and was aided by a final 170-kilo lift in clean and jerk in what turned out to be a battle between former gold medalists.
Long, a gold medalist in 2008, was leading the competition after the snatch and all the way through clean and jerk until Om Yun-Chol of North Korea lifted 169 kilograms on his final attempt to tie for the lead. Om won gold in London four years ago.
Long then came out for his final lift, raised his bar and celebrated the gold medal by pumping his fists in the air. He won by just four kilograms over Om, and the mark beat the record of 305 kilograms that Halil Mutlu set at the 2000 Sydney Games.
"I am really happy. I am really proud," Long said. "I came to this competition with two dreams — to win the competition and break the world record and I did (both)."
Long is the first weightlifter with eight years between his first and second gold medal, in any men's or women's event.
"I have prepared for the competition for four years because I did not get to compete in the 2012 Olympic Games," he said. "After four years I did it."
Long's best snatch lift of 137 kilograms was two kilograms off the world record mark, set by fellow Chinese weightlifter Wu Jingbiao last year.
Om took silver with 303 kilograms and was beaten for the first time in a major competition since he won gold in London.
In the women's 53-kilogram category, Hsu Shu-Ching of Taiwan won her first Olympic gold medal when Li Yajun of China failed to complete the clean and jerk.
Li set an Olympic record in the first round snatch by lifting 101 kilograms to take the lead into the clean and jerk. She was the last lifter to compete in the second round, and needed to lift 126 kilos to win gold. Her high entry total on the start list made her a favorite for the gold, but she failed to medal.
When Li didn't complete her score, the gold went to Hsu, who lifted 100 kilos in snatch and 112 in clean and jerk for an overall score of 212 kilos. Hsu is the reigning world champion and won silver four years ago at the London Games. But London gold medalist Zulfiya Chinshanlo of Kazakhstan failed a doping retest and could have that medal revoked, which would make Hsu a double gold medalist.
"I am very happy and very excited," she said.
Team doctor Lin Yin-Chou said Hsu was battling a strain in her thigh, and it was the "intelligence of our coaches" that pushed her to gold.
"We have been wanting this gold medal for some time and it is especially pleasing because she has had an injury that she has been carrying," Lin said.
A tearful Hidilyn Diaz of Philippines won silver after failing to medal in the last two Olympics. She lifted in the 58kg class in the 2008 Beijing Games as a 17-year-old and impressed many in the field, but she failed on all her clean and jerk attempts in London. Diaz dropped down to the lighter class for Rio, which had just seven competitors.
"I have tried so hard. I have stumbled many times," Diaz said. "I wanted to quit, but now all of my sacrifices have paid off."
Jin Hee Yoon of South Korea won bronze. She had won silver at the 2008 Beijing Games.
Story: Jenna Fryer