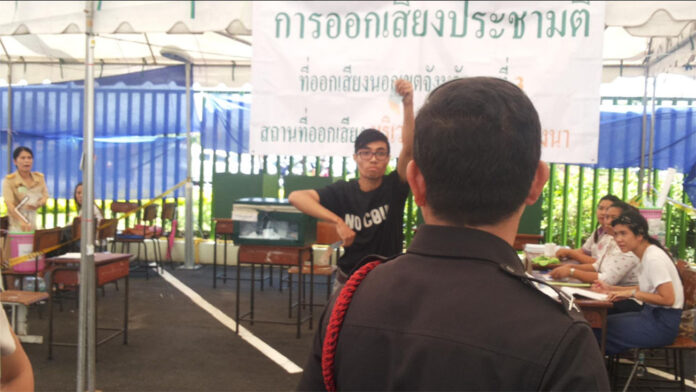 BANGKOK — A junta spokesman Monday ruled out amnesty for those arrested under the now-defunct law that effectively criminalized any dissent to the constitution put to vote and passed yesterday.
That means dozens of people will still face up to 10 years in prison for their actions, which ranged from sending letters critical of the charter draft to tearing their ballots at the poll on Sunday.
Returns Show Landslide Win for Junta in Charter Poll
"The law for the referendum itself is now over, but any wrongdoers under that law will still have to answer to the laws," junta spokesman Piyapong Klinpan said by telephone. "There is no plan for amnesty."
Among those arrested under the Referendum Act of 2016: Activist Piyarat Chonthep, who ripped his ballot at a Bangkok polling station on Sunday to protest what he perceived to be the vote's illegitimacy.
Piyarat was taken to a police station where he was initially slapped with three charges of destroying state property, causing unrest and destroying voting equipment, but police later filed an additional charge of disrupting the referendum. The latter offense carries a maximum penalty of 10 year in prison.
"I will fight my case in court, so that I can show the motivation behind my resistance," said Piyarat, who was granted bail last night.
Several dozen others nationwide were also arrested for tearing their ballots, but police believe many cases will be set aside as they were unintentional or accidental.
Piyarat said police told him to appear Aug. 22, but he may postpone it. He will be tried in the Phra Khanong Circuit Court.
The charter draft was passed by a huge margin of voters, with more than 60 percent approving it, but the turnout rate of 55 percent was much lower than the 80 percent the authorities were hoping for.
Piyarat said he does not accept the result because he viewed the charter and the referendum as illegitimate, though he said that he has no immediate plans to oppose the outcome.
Col. Piyapong, the junta spokesman, said he was satisfied overall with Sunday's referendum despite Piyarat's protest at the polling station.
"The fact that people came out to exercise their voting rights in a peaceful and orderly manner is an answer to some of our allied nations, who had previously expressed their concerns about the referendum," Col. Piyapong said. "Now they should see that our country is peaceful. Thais are capable of solving their own problems."