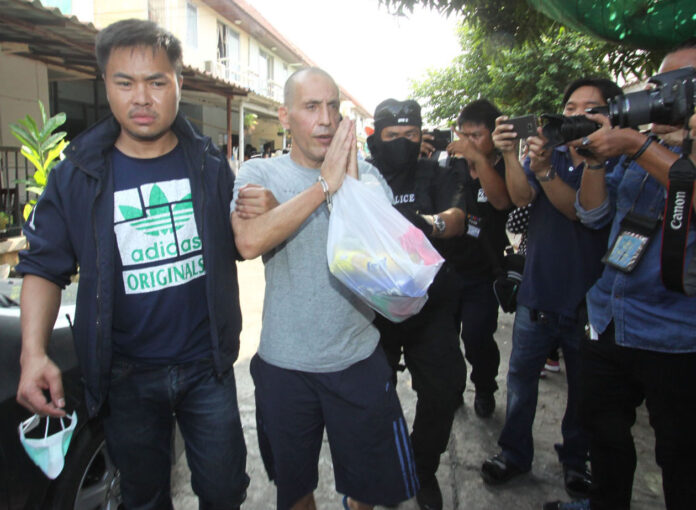 BANGKOK — Testimony from those who knew a man accused of murdering a fellow Israeli and suspected in the disappearance of his wife is yielding more questions than answers for police.
Investigators on Thursday evening interviewed another mistress of Yaakov Bitton, identified as only as Pla, who said he instructed her to tell people that his wife, who went missing a year ago, was dead.
Since the discovery of 63-year-old Eliyahu Cohen's poorly concealed body at Bitton's home Saturday revealed involvement in a previous murder, investigators have been trying to figure out what happened to his wife Nantiya Saengurai, whose family believes he killed.
Read: More Bodies in Israeli Murder Suspect's Past
Pla, 32, said she met Bitton in July 2015 and soon started living with him before eventually leaving due to conflicts with him and his son, who police have said helped murder Cohen.
Pla told police she never met Nantiya and only knew she was the mother of Bitton's son. She did they that Bitton instructed her to tell anyone who asked about Nantiya that she had died of cancer.
On Wednesday police also questioned an ex-wife of Bitton, who said she had no knowledge of Nantiya or her whereabouts.
Police also spoke to three relatives of Nantiya which Col. Arun Vachirasrisukanya said "revealed no further clues." All said they last saw her in April 2015 when she visited her hometown.
The police have also reached out to the Thai consulate in Laos for help in finding Nantiya, who was once arrested at the Nong Khai border crossing for allegedly transporting drugs.
Read more: