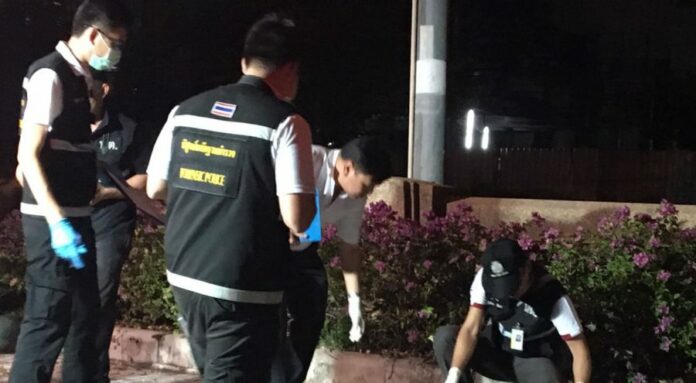 BANGKOK — A man said he fled a gang of teenagers Sunday night in Bangkok by leaping into a canal, only to return and find they had murdered his friend.
Police said Monday they were looking for a group of teens suspected of stabbing Ekachai Boonsoong to death early Monday morning in Bangkok's Sathon district. First responders found the 21-year-old lying dead in a puddle of blood at 3am in a bus lane on Naradhiwas Rajanagarindra Road. Ekachai had sustained fatal wounds to his chest, stomach and back.
Police also found, Panya Boonchom's flipped-over motorcycle about 100 meters down the road. The 19-year-old later told police Ekachai was his friend, and the two had been celebrating Christmas at the nearby Fullmoon Pub.
Panya and Ekachai were reportedly exiting the pub at 2am when a group of six or seven teenagers approached, one of whom allegedly punched him in the face without reason. Panya said they fled on his bike, as they were outnumbered.
The teens gave chase on their own motorcycles and cut them off in front of a nearby Makro store. While Panya leaped into the khlong running between both sides of Naradhiwas, Ekachai decided to flee on foot.
When Panya swam out of the canal and returned to the spot, he found his friend's body.
Lt. Col. Sanchai Martkumjun of Yan Nawa police said they were looking for the perpetrators.
"They were teenagers but we're not sure of their ages yet. They might be part of a gang," Sanchai said.
Sanchai said police were still interviewing witnesses before they could seek warrants. If caught, the teens could be charged with assault and murder.