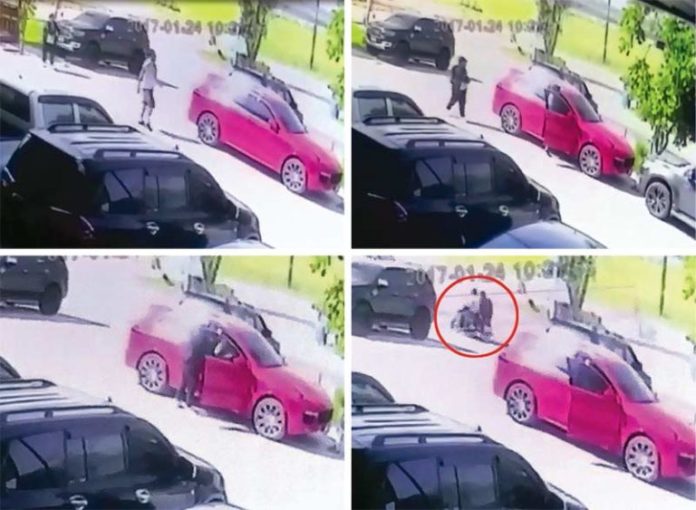 PHNOM PENH — A British man suspected of involvement in the gangland-style slaying of another Briton in the Thai resort town of Pattaya has been arrested, Cambodian authorities said Wednesday.
Deputy National Police Chief Gen. Chhay Sinarith confirmed the arrest of the suspect, who was taken to Phnom Penh Municipal Court for questioning. Court spokesman Ly Sophana identified the man as 45-year-old Toby James Nelhams.
Nelhams was one of three men sought by Thai police in the Jan. 24 shooting death of Tony Kenway, 39, as he sat in his parked Porsche SUV. Kenway's widow described him as a website designer, but Thai media suggested he had connections with a gambling website, among other activities.
Read: Suspected Mastermind of Pattaya 'Web Designer' Hit Still Sought From Cambodia
Thai police have said the other two suspects, a South African suspected of being the shooter and a Briton believed to have been his getaway driver, fled to Cambodia. Their current whereabouts are unknown.
Police Col. Jirawut Tantasri, chief of the Thai police precinct investigating the killing, confirmed that an arrest warrant had been issued for Nelhams after an investigation. He said Wednesday that he had contacted Cambodian police but had not heard anything from them.
Both Cambodian and Thai authorities have released few details about Nelhams or the circumstances under which he was arrested. His arrest warrant had not been publicized, unlike those of his alleged accomplices, South African Abel Caleira Bonito and Briton Miles Dicken Turner.
Thai newspapers reported late last week that Nelhams had been apprehended in Cambodia and was expected to be handed over to Thailand, presumably without going through a complicated and prolonged extradition process. Until Wednesday, however, Cambodian officials denied making any such arrest.
Pattaya is a popular beachside resort town about a two-hour drive from Bangkok with a reputation as a sin city rife with corruption and prostitution. It attracts a significant number of Western residents, including members of the criminal underworld from several nations.
Story: Sopheng Cheang
Related stories:
Suspected Mastermind of Pattaya 'Web Designer' Hit Still Sought From Cambodia
Police ID Briton, South African as Killers of 'Web Designer'
No Suspects Yet in Murder of British Businessman