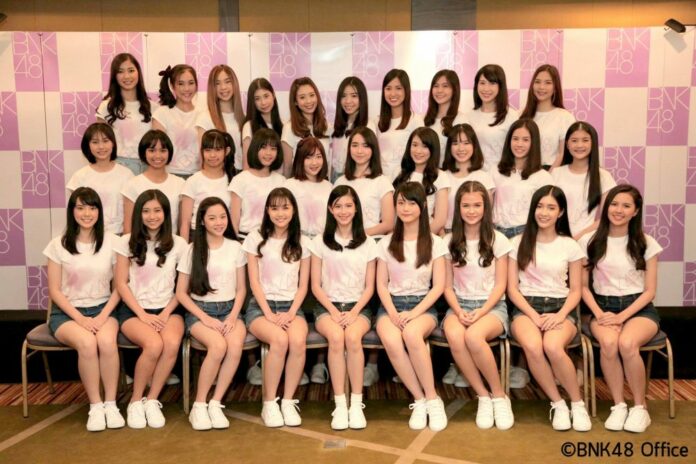 BANGKOK — Thailand this week became the third country to boast an overseas chapter of ABK48, the Japanese superstar girl group that epitomizes everything about cuteness, or kawaii, in Japan.
After a year of recruiting and auditioning, BNK48 – which is of course an abbreviation for Bangkok – announced its first lineup of 29 teen girls on Sunday at a Japanese cultural expo at CentralWorld. It is the third AKB48 "sister group" in the world, following China's SNH48 and Indonesia's JKT48.
The Bangkok group has yet to produce any songs or music videos, but by Wednesday some fanclubs had already started to form around some of the idols. At one point, hashtag #BNK48 was trending on Thai Twitter.
Founded in Tokyo in 2005, girl group AKB48 quickly became a phenomenon that captivated the country with its songs, theater performances and appearances on TV. Regional chapters of AKB48 later opened in other cities of Japan before spreading to the Asian cities of Shanghai and Jakarta, and now Bangkok.
All of the sister groups follow the traditions of the flagship ensemble in Tokyo's district of Akihabara (AKB48's namesake), like separating its numerous singers into different "teams," and occasional "general elections" in which fans of particular singers can vote them on their favorite idol, or oshi.
It is still unclear how much BNK48 will stick to the pure form of AKB48 cult (no team is even divided yet), and since we're talking about internet-based fandom here, there's already drama brewing on the horizon for the Thai girl group.
You see, someone found out that one of the BNK48 members, Maysa, is openly dating her boyfriend, which runs directly against AKB48's notorious no-dating policy. One of the AKB48 idols was caught dating in 2013 and had to shave her head in apology.
Will Maysa have to become a Buddhist nun in contrition if the same policy is applied here? Or will mai pen rai overcome the core Japanese values of the franchise? We will have to wait and find out how this transnational pop culture hybrid unfolds.