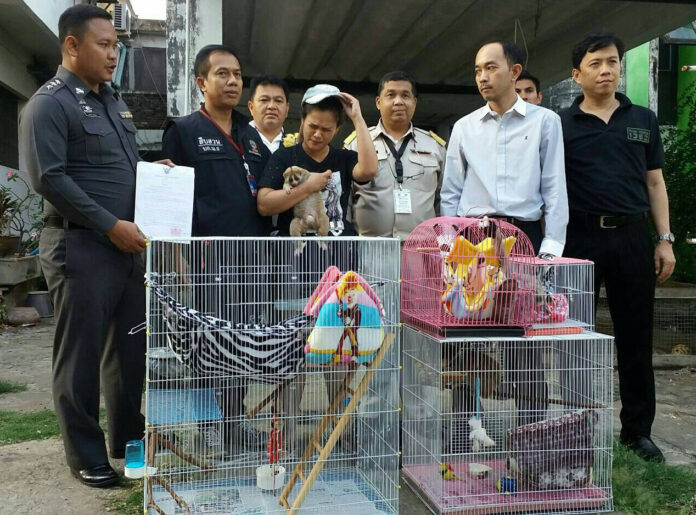 BANGKOK — Police said Tuesday they are looking for more animal traffickers after a woman was arrested for possessing and selling slow lorises from her eastern Bangkok home.
Kalyaporn Rukthum, 30, was arrested Monday at her house in the Bang Kapi district for selling Sunda slow lorises via Facebook. Officers found eight of the animals in four cages in her bedroom.
"This woman's arrest is part of a larger investigation of many other animal traffickers who contact each other online through networks of animal buyers," Lt. Col. Kitti Yungmee of a Crime Suppression Division environmental task force said Tuesday.
Kitti said Kalayaporn will be charged with illegally possessing and trafficking the animals, crimes punishable by up to four years in jail and a 40,000 baht fine.
Slow lorises are popular in the exotic animal trade, and all varieties of the protected animal are classified as vulnerable or endangered.
Kalayaporn bought a few slow lorises at Bangkok's Chatuchak Market about two years ago and bred the rest, Kitti said.
The woman has reportedly confessed to the charges but told police during Monday's raid that she only sold the primates to "those who love animals."
She sold adult animals online for 6,000 baht to 7,000 baht, with infants going for 1,500 baht to 2,000 baht, according to Navee Changpirom, an environmental academic from the national parks department who was at the raid.
"She was keeping the Sunda slow lorises in cages in her bedroom. Actually, it seemed that she was knowledgeable on how to raise them, because she fed them food appropriate for slow lorises such as steamed crickets, fruit and worms," Navee said.
Related stories:
Forest Ranger Sacked For Poaching in His Own Forest
Wildlife Officials Hunt Poachers Who Shared Kills on Facebook