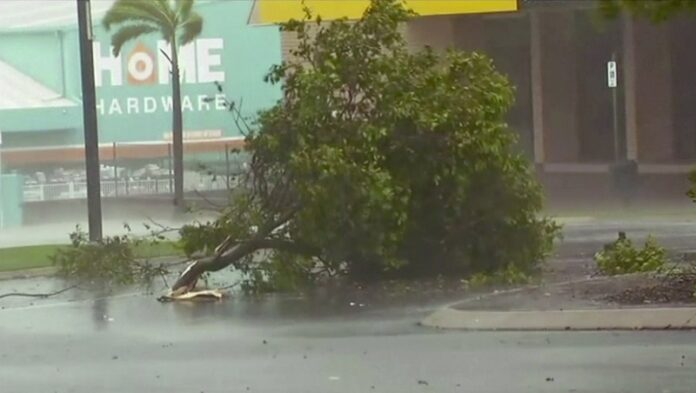 TOWNSVILLE, Australia — A powerful cyclone lashed islands, damaged roofs and cut power on Tuesday as it edged toward Australia's tropical northeast coast, officials said.
Category 4 cyclone Debbie brought winds gusting to 250 kilometers per hour (155 miles per hour) and torrential rain to the Whitsunday Islands, a popular tourist destination off the Queensland state coast southeast of the city of Bowen, the Australian Bureau of Meteorology said in a statement.
The eye of the storm was expected to cross the coast later Tuesday.
Deputy Police Commissioner Stephan Gollschewski said reports of damage were starting to come in.
"We're getting some reports already of roofs starting to lift, including at some of our own facilities in the Whitsundays," Gollschewski told Australian Broadcasting Corp. television.
He warned people in Debbie's path that they would be holed up for the entire day on Tuesday and could expect significant flooding in inland areas.
Whitsundays Regional Council Mayor Andrew Willcox said authorities had received 98 requests for help and had responded to most of them. He said 10,000 premises had lost electricity.
"The cyclone is impacting across the whole region, not just the islands," Willcox said. "The severity of Debbie, unfortunately, hasn't been felt yet."
Police Commissioner Ian Stewart said communities along more than 300 kilometers (200 miles) of coastline would be impacted from Ayr to south of Mackay.
Thousands of people began evacuating low-lying areas in Debbie's path on Monday.