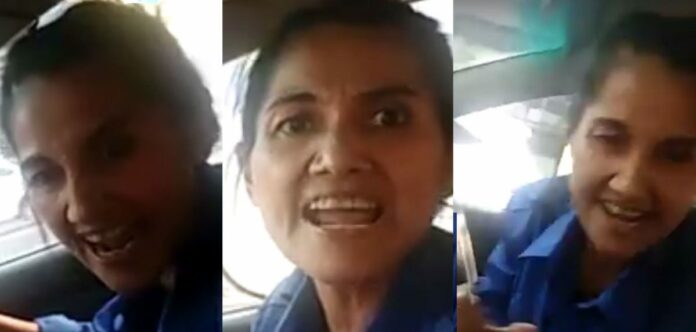 BANGKOK — More outrageous tales of taxi mania emerged Thursday about a driver whose sudden online infamy has drawn more anecdotes of abuse from her past passengers – including an outstanding arrest warrant.
While police continue looking for Pusadee Anchanphati, whose aggressive behavior was the subject of a viral video, accounts emerged of the taxi driver's history of volatile behavior, including one incident that left her wanted for theft.
Read: Manic Taxi Panic: Screaming Driver Terrorizes Family (Video)
"This woman has an arrest warrant for robbing a passenger, which she escaped by going off the radar," Col. Amnat Intarasawon of Bang Khen police said. "But don't worry, the statute of limitations is eight years, so when police catch her, she will definitely be punished for theft as well. I want all citizens to report to the police immediately if they see Pusadee."
According to Amnat, Pusadee was involved in incident "exactly like in the clip on social media yesterday" two years ago after picking up a woman and her son from CentralPlaza Lardprao. After some arguing, the 6-year-old boy poked his head between the front seats and asked her to stop the car.
Amnat said Pusadee reportedly swung at the boy's head, who ducked and jumped out of the slow-moving car. He said the mother ran out of the car without her handbag to check on her son, who was not injured. Pusadee then stole the woman's phone and wallet from her handbag, which she tossed out the window before taking off at breakneck speed, said Amnat.
Police obtained an arrest warrant for Pusadee after the unidentified woman filed a complaint. Three days later, Amnat said another taxi driver using Pusadee's car returned the woman's phone after finding it inside, along with a medical document that listed her name and mobile number.
Pusadee abandoned the company-owned taxi and disappeared, Amnat said, before resurfacing to social media infamy Wednesday.
Other stories of rides with Pusadee have spread across social media – including that of Piyanee Yommananon's.
Writing on Facebook as Loma Taitar Partyy, the 34-year-old posted early this morning about an abusive ride with Pusadee in September 2014, and what she described as police inaction.
According to Piyanee, she also flagged down Pusadee in front of CentralPlaza Lardprao, at which point Pusadee also drove erratically and refused to stop. Piyanee said Pusadee did not give her adequate change, and she had to leap from the car while it was still moving, hurting her legs.
"I couldn't walk for two days. I went to the police at Phahon Yothin, and they said since I didn't die or crack my head, I could only file a complaint for an accident and fine her 400 baht," Piyanee said by telephone Thursday.
Soon thereafter, Piyanee says the woman was called into the police station but showed up an hour late. After waiting 10 minutes, Piyanee said she upped and walked out. She said the police did nothing further.
"If the police had taken care of this back then, then the family in the clip yesterday, with the granny and the little kid, wouldn't have had to face that woman," Piyanee said. "I want her to be banned from this profession so that she can't hurt anyone else. My loved ones live around Lat Phrao, what if someone I know flags her down?"
If convicted of theft, Pusadee faces up to five years in jail and a fine of 10,000 baht.