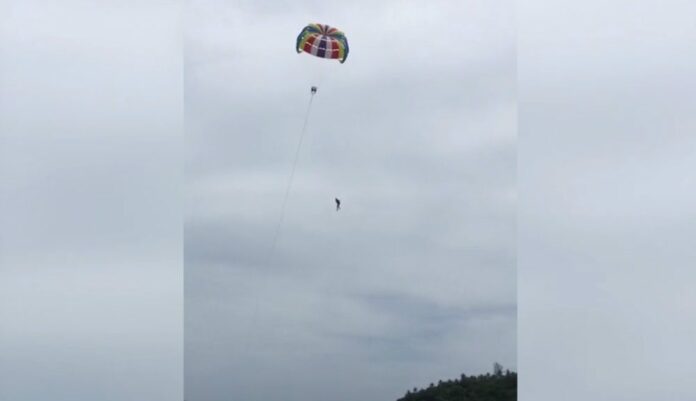 PHUKET — Police on Thursday said operators of the service used by an Australian tourist who died after falling from a parasail on Wednesday were not officially certified.
Boat operator Montien Chandaeng and staff Rungroj Rakcheep were charged with recklessness leading to death and illegally operating a commercial parasail service following an incident in which a 70-year-old Australian man was killed after falling from 70 meters from a parasail.
The man died on Wednesday afternoon, shortly after being taken to Patong Hospital. His identity is being withheld until his next of kin are notified.
Read: Aussie Man Falls to Death from Parasail on Phuket Beach
The Australian tourist, who arrived with his Thai girlfriend, contacted the parasailing service at about noon, Rungroj told Lt. Suwisit Keereerak of Karon Police. Rungroj – who was on the parasail with the man – said the Australian national pulled on a hook which unstrapped his harness instead of a rope to which he had to hold on.
If convicted, both men face a maximum penalty of 10 years in prison, or a fine of 20,000 baht, or both.
Related stories: