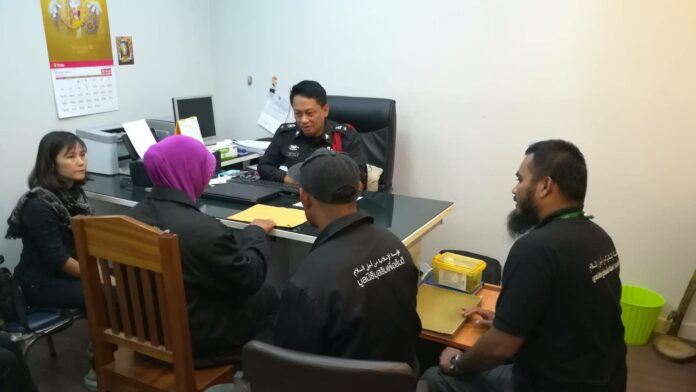 PHANG NGA — Police on Friday afternoon applied for the first batch of what they said will be dozens of arrest warrants for men accused of raping a 14-year-old girl in the southern province of Phang Nga.
Eleven warrants were being sought after local authorities vowed to take action in response to allegations the girl was subjected to serial sexual assaults last year by more than 40 men in their community. A number of the suspects and community leaders have accused the girl of making up the story.
Three months after three suspects were indicted for the alleged crime, the victim's mother and a lawyer from a local nonprofit went to police Sunday to report that many more men had been involved and ask that they be brought to justice.
"The first three men have already been taken to court. However, the investigation into the rest of the men is ongoing, and it's really a secret," Lt. Col. Kittiphum Thinthalang of Khokkloi police said Thursday.
The three men arrested in June were subsequently released on bail. Other potential victims have been identified, but Kittiphum said the case he is investigating is limited to the 14-year-old girl.
Chanon Abdullah, president of the Muslims for Peace Foundation, a nonprofit providing legal assistance, said he and his organization have been helping the mother and woman bring criminal action against the remaining 37 men.
He said physical evidence proves the child did not invent the claim, as some in the community have alleged.
"It's the same story but with more characters," Chanon said. "Since the first three were indicted, it follows then that the rest of the men should be. According to the physical examination from the first case involving the three men, she was definitely raped."
Though three men were already indicted, he said it wasn't until his organization talked to the victim that it came out that many more men might have been involved, including the victim's own stepfather. Since the first three men had already been charged, he said they had to file a fresh complaint.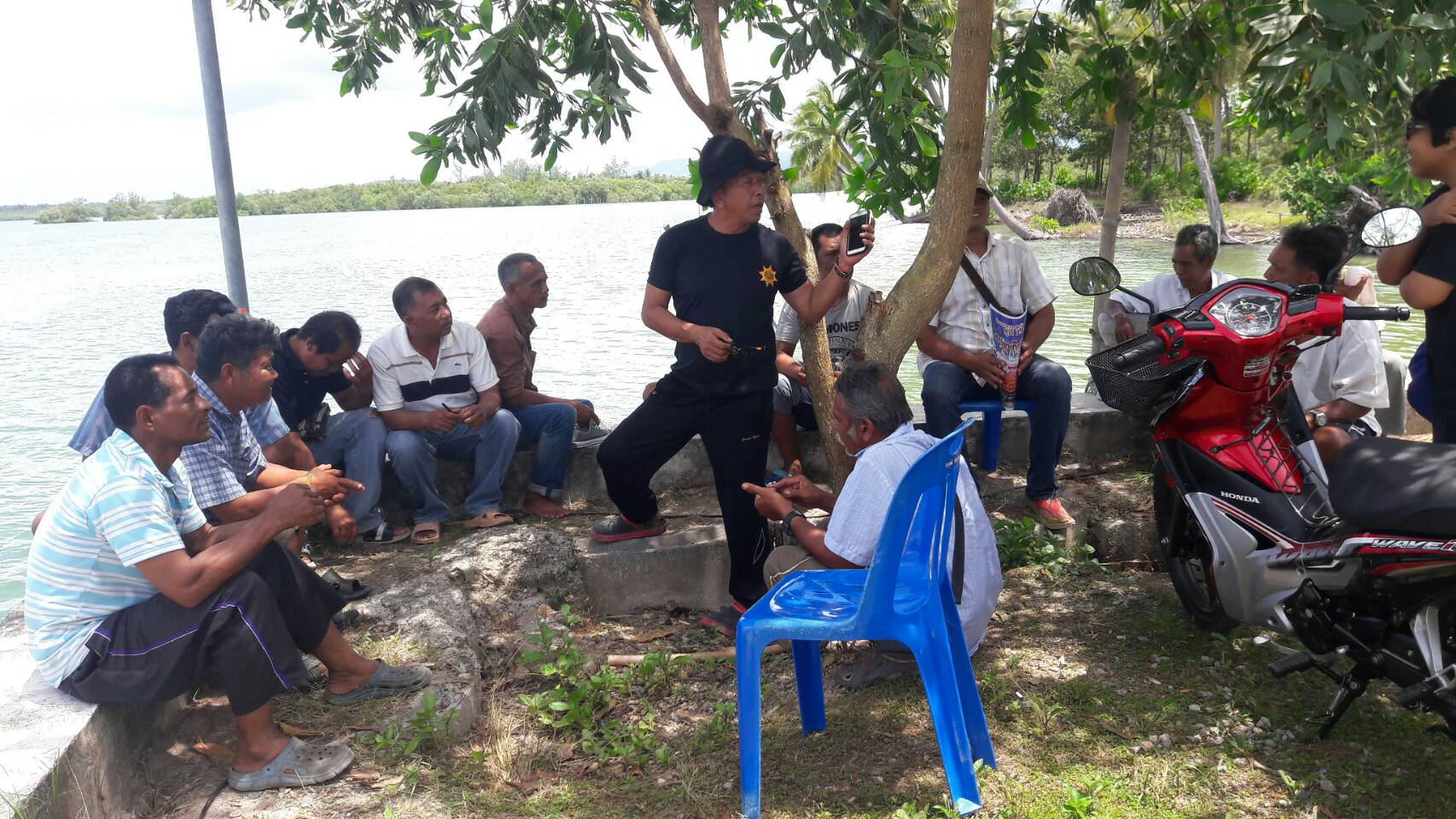 "It's not about whether we believe the child or not," Chanon said. "It's about finding the truth. It's up to the justice process now, and it's a really big nationwide news now too."
The story has dominated the news cycle since Sunday, when members of the Ko Raet community responded angrily to the allegations, accusing the family of inventing the story for extortion.
Chanon said the victim is traumatized and is being treated for depression.
The Case So Far
The 14-year-old girl said Sunday she had been assaulted by three local men in May 2016. In June 2016, one of them allegedly broke into her home while her parents were out working on a rubber plantation and attacked her. The assaults continued, the victim alleges, with the men bringing in six others to gang rape her while forcing her to ingest a drug in the form of a white powder.
The victim also says the men forced her onto a motorcycle and took her to local beaches where she was sexually assaulted for five nights in a row in December 2016. She said some of the men, which included older brothers of friends and other men she recognized, held flashlights while others raped her. She alleges a local doctor was among the perpetrators.
She also said that on the third night she was abducted and taken to Hua Na Beach, she saw two other girls under 18 being assaulted as well. She said 11 men abused her that night.
In one of the huts where the girl alleges being raped, police found traces of drugs allegedly used to drug her.
Worachit Kongbut, Chatchai Srirat and Bunnapot Nonsee were arrested and charged in June before being set free on bail. They will be prosecuted for various offenses involving a child under 15, including kidnapping, coercion, rape and forced ingestion of drugs.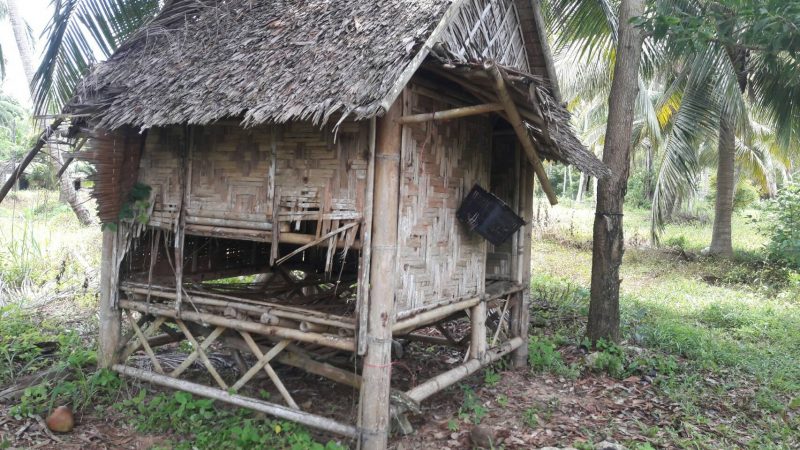 If convicted for rape of a child under 15, the men face jail time of four to twenty years in prison and a fine of 8,000 to 40,000 baht.
Members of the victim's family have also been investigated, police spokesman Col. Krissana Pattanacharoen said Wednesday. The child's stepfather, Somneuk Kongbut, 41 is a suspect.
Krissana said Monday that the victim is undergoing a physical examination, and that the case is also being investigated for possible human trafficking-related charges.
Deputy Phang Nga Gov. Ekkarat Lee-sen called a meeting Monday of local law enforcement officials to urge them to investigate the case, adding that the victim is currently under witness protection.
"I'm confident that we can prosecute all 40 men involved, since we have clear witnesses," Ekkarat said Monday.
Suspects Call Foul on Accusations
Yutthanagorn Juanjenkit, the community headman, said Monday that "collective damage to the village has been done and conflicts are arising between groups."
He said the authorities need to be fair.
"People are demanding justice, since most men in the village say that they had nothing to do with the rapes," he said.
Since Sunday, the Ko Raet community has been awash in suspicions, finger-pointing and victim-blaming.
Public health officials have sent psychologists in response to reports that people implicated in the case were threatening suicide.
Hathaichonnee Booncharoen, a local health official, said Wednesday that villagers were experiencing stress, insomnia and even suicidal tendencies.
Chalerm Samin, a Ko Raet resident and one of the accused, denied involvement.
"I had nothing to do with this. I know the family well. I've helped them before as a neighbor," he said Monday in comments echoed by other suspects.
Sornchai Jaithat said the accused men should be compensated.
"The authorities should quickly find ways to compensate residents in the village that have been unjustly accused," he said. "Everyone is stressed."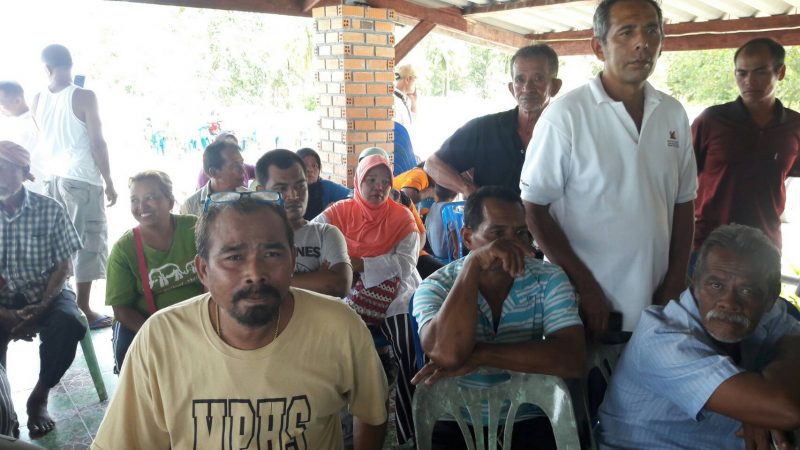 Local cleric Arunrote Sudensan said Thursday he thinks the charges are an act of extortion.
"I believe it's blackmail or an attempt to get attention from society … the mother is using the child in order to get benefits and help," he said.
Bangsaman Samin, a 69-year-old local man, said he can't take the stress.
"I want to kill myself or run, and the police can shoot me dead. I'm so humiliated that the village thinks I'm one of the rapists. I hope society understands what this family is doing!"
The reaction online toward the suspects' responses has been mostly skeptical.
"It's like everyone knows what's going on, and they're helping to cover it up," Facebook user Pvwdmaftll Nat wrote in one of many similar comments to a recent Khaosod news report.
Chanon, the NGO lawyer, said the village is full of "contradicting opinions."
"Some say that the family keeps to themselves, but one of the village leaders confirmed to me that the mom is definitely involved in community activities," he said.