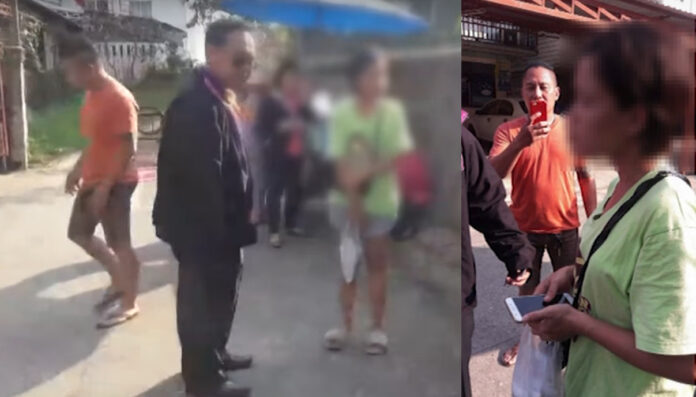 PHITSANULOK — A woman was in police custody Saturday and her husband on the run after they were accused of sexually abusing their toddler son and selling the footage to a private Line group.
The footage prompted disgust after it leaked from a Line group where people allegedly paid and were paid to traffick in illicit clips. That led police to arrest the mother Friday and charge her with violating the Computer Crime Act, sexual assault, encouraging children to commit criminal offenses and human trafficking.
Police are seeking the father and others involved in the alleged ring.
"We don't want to reveal the names of the parents, since doing so would immediately identify the child," Songpol Sangkasem of Phitsanulok police said. "We are also still finding the witnesses and suspects, so it would not be helpful to our investigation if the names of the people we're looking for spread through the media."
The boy, 3, has been taken into protective custody and is being treated.
The deputy provincial governor assured that police would investigate the matter thoroughly.
"This is a group of deranged and perverse individuals watching a video of a child having sex with his own parents," Paibul Nabutjom said. "They may have thought they were doing it in a secret group, but there are no secrets in the world we can't investigate. Don't worry, the police will get them all."
The mother told police that she and the father they were paid 400 baht to post a rape video in the Line group.
The group required a membership fee of 1,000 baht to join. The family reportedly posted at least three assault videos, some of which were performed live for the members.
She said she was not the only one posting obscene clips and was encouraged to join the group by a woman named "Ae."
Police said they are looking for Ae in Ratchaburi. Col. Songpol Sangkasem of Phitsanulok police said everyone in the secret Line group is liable to be charged under the Computer Crime Act as well as human trafficking laws.
Paibul said that the police are tracking down the IP addresses of those believed to have watched the video. The parents, he said, were not Phitsanulok natives but had moved to work there.
Psychologists and mental health experts are also involved in the investigation, Paibul said.