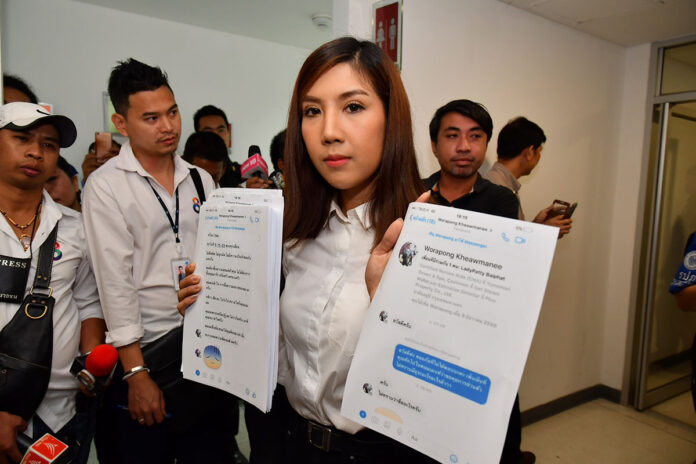 BANGKOK — A reporter at a top entertainment network filed a police complaint Wednesday against whoever has been badgering her online to be his mistress.
Kanwaela Soa-ruen, 31, who covers social issues for Workpoint TV, carried a stack of printed screenshots to the Technology Crime Suppression Division as evidence showing someone online proposed she have sex regularly with him in exchange for 287,000 baht per month and spammed her with dick pics.
"I want to stand up for all the women who faced something like me. Be brave enough to go to the police," Kanwaela said Wednesday. "To be honest I've faced something like this many times, but no one had this much audacity. I need the police to drag him out so he won't trick or harm any other women so they can come forward, and men won't want to act like him."
Read: Why Few Thai Women Are Saying #MeToo
The reporter said she started receiving messages Saturday from Facebook user Worapong Kheawmanee, who proposed they meet to have sex on the fifth, 15th and 25th of each month.
He urged her to sign an official contract with him at CentralWorld and offered 25,000 if she just showed up to refuse his offer. All the while, Worapong pressured her to join him in a video chat.
"My name is Pong. I don't want to waste your time, so I'll be straightforward. We're both adults," Worapong wrote in a chat. "I only offer this to pretty women to fulfill my sexual needs. No strings attached – no relationship. I just need pleasure from your body, not your love or to start a family with you. I'm already married."
Kanwaela ignored most of his chats before responding, "I'm not interested. Are you a virus or a pervert?"
After Kanwaela rejected Worapong and told him to stop messaging her, he spammed her with naked photos of women he claimed were his mistresses, their genitals and photos of his penis.
Kanwaela said she did not know if actually belonged to a Worapong, since his profile said he is an executive director of Plus Property Co. Ltd. Kanwaela said she called the company who said that there was no director named Worapong there.
It also says he is a certified nurse aide at an onsen who graduated in regional planning from Burapha University.
Capt. Passit Srisupot of the Technology Crime Suppression Division said the Facebook account would have to be investigated before police could charge anyone.
Related stories:
Why Few Thai Women Are Saying #MeToo
Health Official Deemed Guilty of Serial Sexual Assault
Sexual Violence Stalks Thailand's Activist Community
Victims Recount Harrowing Episodes of Sexual Violence