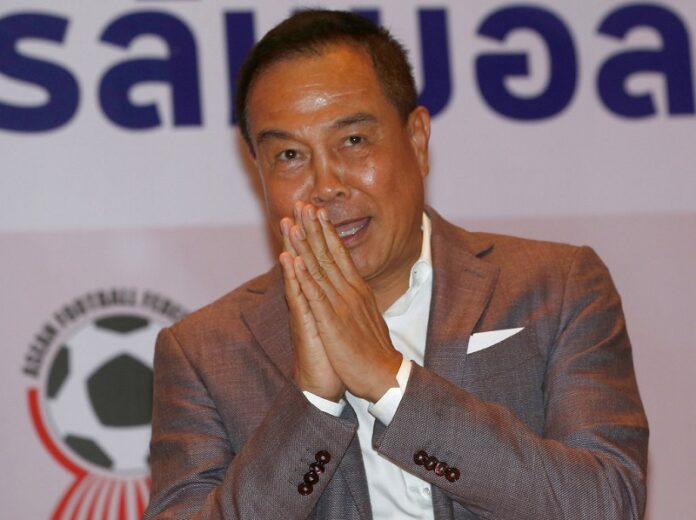 BANGKOK — A former national police chief, who currently heads the Thai Football Association, met with investigators Thursday to explain his financial links with a fugitive massage parlor owner accused of human trafficking.
Somyot Poompanmoung reported to the Department of Special Investigation after admitting that while he was police chief he borrowed 300 million baht (almost USD$9.5 million) from Kampol Wirathepsuporn.
Kampol owned the Victoria Secret massage parlor, which also operated as a brothel, and has been charged with at least 12 separate counts, many related to human trafficking and alleging he prostituted girls who were 15 to 18 years old.
Police raids in January revealed that the massage parlor employed teens and allegedly trafficked some of them into the sex trade. Investigators also discovered that police officers had received sexual favors from staff. Police have raided several other venues that Kampol owns.
Somyot told reporters he was interviewed by investigators as a witness, but declined to elaborate.
Supat Thamthanarug, director of the DSI's anti-trafficking section, said Somyot's large loan was under investigation but he declined to provide further details.
Somyot told the media that Kampol was an old friend who shared a love of sacred Buddhist amulets and had helped him out at a difficult time. He said he had repaid the loan and had declared it to the relevant authorities at the time.
The story provoked widespread comment about links between police and the criminal underworld. Newspaper opinion writers condemned the former police chief's behavior as "shameless."
Somyot sullied his image further by saying in a media interview that being the country's police chief had only been a sideline and that his real job was speculating on the stock market.
Somyot made international headlines in 2015 when he announced a reward of 3 million baht (about USD$86,000 then) for information leading to the arrest of the perpetrators of a deadly Bangkok bomb attack, then awarded it to his own police officers once arrests had been made.
He became head of the Thai Football Association in 2016 after leaving his police post. He took over from Worawi Makudi, who was banned in 2016 from all national and international football-related activities for five years by FIFA, the international governing body of football, for ethical violations including forgery.