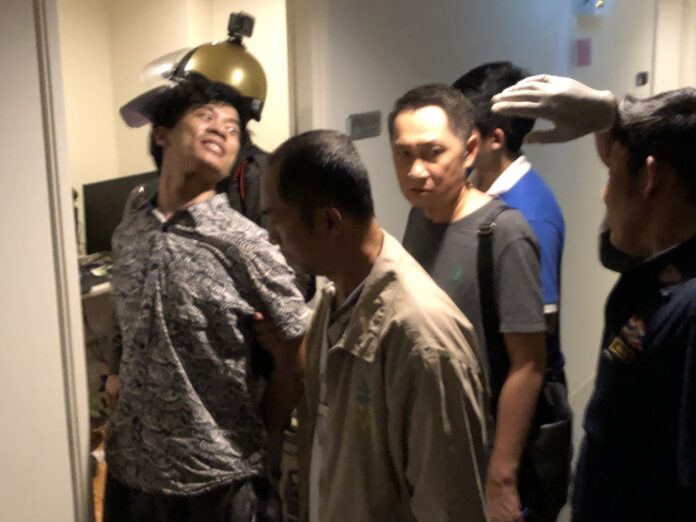 BANGKOK — Her face battered black and blue, the young woman was forced to slap her own face and repeat how she had wronged the man threatening to kill her in slurred speech on camera.
Quick action by netizens was credited Sunday for the rescue a woman from her boyfriend, who was beating her at their Bangkok home in a live video stream – and taunting the public to intervene.
"I'm gonna kill you for sure if you don't tell the truth," the man said. "You, people out there, think you're gonna make it in time? Don't mess with me. You don't know who I am!"
After alarmed netizens including the woman's sister reported what they were seeing at 4pm, it took about 30 minutes for officers to arrive to the Bueng Kum district apartment. The man, 25-year-old Chaichana Sirichat, would only allow one rescue worker into the room to tend to the woman.
After about two hours of negotiation, she was brought out and taken to the hospital with face and head injuries, including a nearly severed finger.
A police investigator at the scene said Monday that they believed the woman, 21-year-old Kuldara Yeesaman, would survive the two hours it took to get her out.
"We believed that since the rescue worker was allowed inside, the situation would not easily escalate," Lt. Col. Saneh Maneechai said. "We waited for an appropriate time. When the worker came out, the whole team went inside and rescue her."
The police deputy spokesman said Chaichana accused the woman of having an affair and used a broom and a hair dryer to assault her. He was charged with assault, illegal confinement and other related charges, including violating the cybercrime law, which could see him jailed up to two years and fined up to 200,000 baht.
"It's violence against women, and it is a bad example to the public," police spokesman Col. Kritsana Pattanacharoen said. "I'd like to thank the people for helping us by monitoring crimes through social media and quickly reporting them to police."