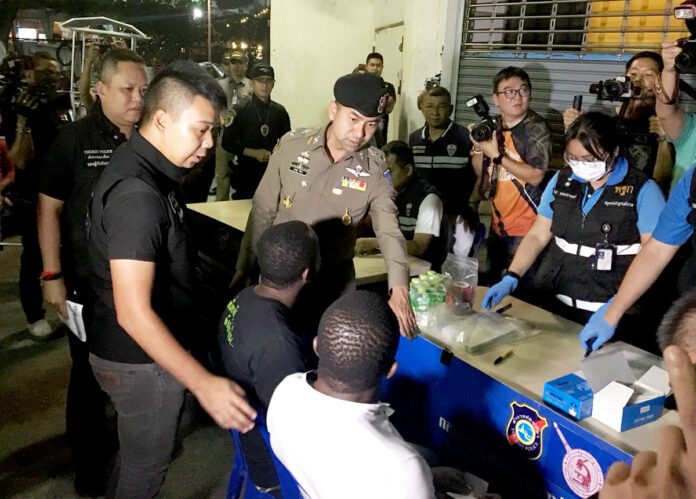 BANGKOK — Seventy-four foreigners were arrested in the latest edition of what's become a weekly photo op promoting police raids foreigners suspected of illegal activities.
At 1:30am on Friday, Tourist Police Deputy Commissioner Maj. Gen. Surachate Hakparn held a news conference in the parking lot of the RCA nightlife area to announce that police made the arrests at 75 locations nationwide as part of their two-year-old "X-Ray Outlaw Foreigner" operation previously known more provocatively as "Operation Black Eagle."
"You sell fabric? Did you know this was illegal? You can't work," Surachate said to one of the men in custody as the press looked on.
Ten people were arrested for overstaying their visas were from Vietnam, Myanmar, England, Nigeria, Laos, India and Malaysia. Forty-two were arrested for illegally entering the country: 12 Laotians, 10 Indians, nine Burmese, five Cambodians, two Vietnamese and two French, as well as Chinese and Nigerian nationals. For various other offenses, 11 Thais were arrested along with three Indians, two Laotians, two Burmese and one Kazakh.
Surachate said police made the arrests at hotels, tourist areas and schools throughout the country.
Police pointed out the arrest of Algerian Abdelaziz Dahane, 57, who they accuse of pickpocketing and seized HKD2,680 from. He was arrested Wednesday for allegedly pickpocketing a tourist from Hong Kong at Airport Rail Link Makkasan.
The X-Ray Outlaw Foreigner has been operational for about two years now, with police saying that they will focus on the 400-or-so Nigerians they believe are in Thailand running online romance scams, as well as illegal Chinese call centers.