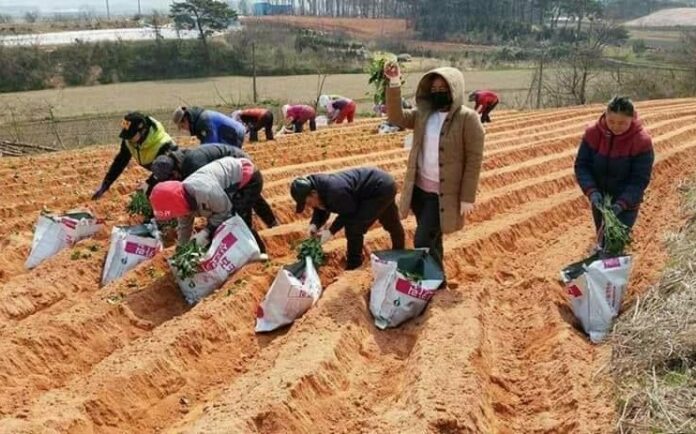 BANGKOK — A video clip of illegal Thai workers arrested in South Korea Sunday drew fresh criticism after official denials that Seoul will stop waiving visa requirements for Thai travelers.
In the video, a group of Thai women converse cheerfully as they sit on a floor and are handcuffed by authorities in Seoul. Their bust came less than a week after media there reported that the Korean government was mulling the reversal of its visa policy to counter the influx of such workers.
"We get to be handcuffed in Seoul," a woman is heard saying playfully in the clip. She also called others to look and smile to the camera and said, "I'm filming this as a memento."
Though there were few details about the circumstances of their arrest, the scene sparked sharp comments from viewers accusing the undocumented workers, known as Phee Noi or "little ghosts," of tainting the reputation of Thais and making things more difficult for genuine tourists.
"It's like you don't even realize that you're violating the law and damaging the country's reputation," Facebook user Patapee Ittipol wrote in a comment to the video.
Thai officials have reported the ranks of illegal Thai workers in South Korea have swollen considerably this year.
"I look down on you people because I work [legally] with less wages than these illegal workers," user Sarayoot Sookjaimit wrote. "What are you proud of? … Looking so happy in the clip. If I was there I'd stamp my foot on your faces. You're taking advantages of others. Do it right if you really want to go there."
On Thursday, South Korean daily Chosun Ilbo reported that the Korean Justice Ministry was considering ending the visa waiver, which has allowed Thais to visit for 90 days for almost 40 years, due to the increase of illegal immigrants. The report said the Korean Foreign Ministry opposed the idea due to diplomatic sensitivity.
It also wrote that Thais are among the largest foreign visitors to South Korea, with nearly 500,000 entering the country last year.
The Thai Foreign Ministry responded Saturday, saying South Korea had not communicated anything about canceling the program, which is reciprocal.
Spokeswoman Busadee Santipitaks said that tens of thousands of additional illegal Thai workers have gone to South Korea in recent months, bringing the population there to upward of 100,000. That's on top of the 25,000 who possess work permits. She urged all Thais to comply with the laws of other countries.
Working in South Korea has long been popular among Thais and fueled a lucrative recruiting agency industry, which can easily be found on social media. On Facebook, many community pages post information about how to avoid arrest as well as job recommendations in mostly labor fields such as domestic service and agriculture.