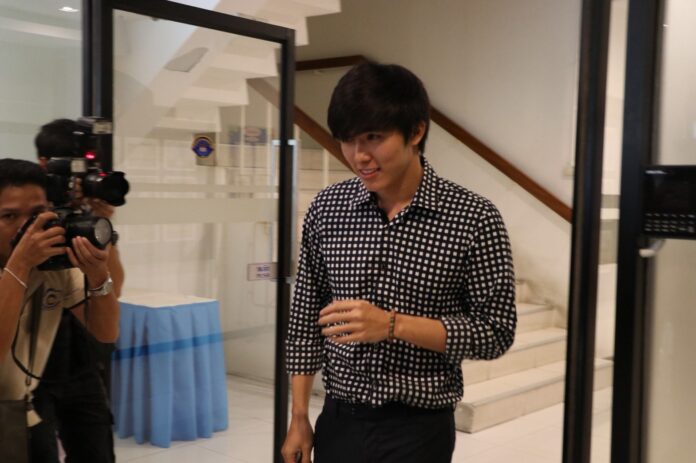 BANGKOK — An actor and his brother accused of scamming a foreign investor of hundreds of millions of baht in cryptocurrency met investigators Wednesday as other suspects said a settlement had been reached with the victim.
Two Thai investors allegedly involved in the 800 million baht Bitcoin scam yesterday said they were negotiating a settlement with the victim, Aarni Otava Saarimaa, in return he drop charges against them. They were the latest suspects identified in the case, and the first not to be members of the same family.
Jiratpisit "Boom" Jaravijit and his brother Thanasit Jaravijit arrived at the division early this morning following a police order they give statements by today. On Monday, their parents were questioned at the Crime Suppression Division.
Read: Police Implicate Actor's Parents in Bilking Finn of 'Bitcoin'
Parinya Jaravijit, another brother accused of masterminding the scheme, is reportedly still out of the country. Deputy chief Col. Chakrit Sawasdee said they would ask the court to issue an arrest warrant if he fails to appear.
Jiratpisit said he hasn't been in touch with Parinya, said to be in the United States.
As for the parents, Suwit and Lertchatkamol, Chakrit said they could be charged with money laundering although both denied any knowledge about the origin of the money they received from Parinya.
Lertchatkamol told police that Parinya lied to her about their purpose. Chakrit, however, said "anyone with common sense" should have known that it was unusual and fishy.
According to Chakrit, Lertchatkamol admitted to opening several bank accounts for Parinya and receiving transactions worth over 100 million baht from him. He then instructed her to withdraw or deposit specific amounts of money in different accounts each day – one of which was over 67 million baht.
The court document said Parinya and other Thai investors last year persuaded Saarimaa to invest in several businesses, some of which turned out to be shell companies. Among the ideas sold to him was an investment in a digital currency called Dragon Coin. Saarimaa, being a cryptocurrency investor, was told to buy shares using Bitcoin.
He complained to Thai authorities in January that he never received any dividends. Police said Saarimaa's Bitcoin was cashed into Thai baht, deposited in more than 50 bank accounts and used to buy real estate.
On Tuesday, investor Prasit Srisuwan and Expay Software shareholder Chakris Ahmad, the two other suspects, said that they met Saarimaa to settle the dispute as they alleged Parinya had also misrepresented the deal to them.
Both Prasit and Ahmad, who have been charged with fraud, said after the talk that Saarimaa was happy with the compensation they offered, but declined to elaborate the details.
Chakrit said the settlement could be executed within days. He added that the victim would be able to drop charges against Prasit and Ahmad afterward.
Related stories:
Police Implicate Actor's Parents in Bilking Finn of 'Bitcoin'
Actor's Sister Surrenders Over 'Dragon Coin' Scam
Actor Deemed Flight Risk in 'Dragon Coin' Scam
Actor Busted For Massive Fintech Scam Targeting Foreigners: Cops