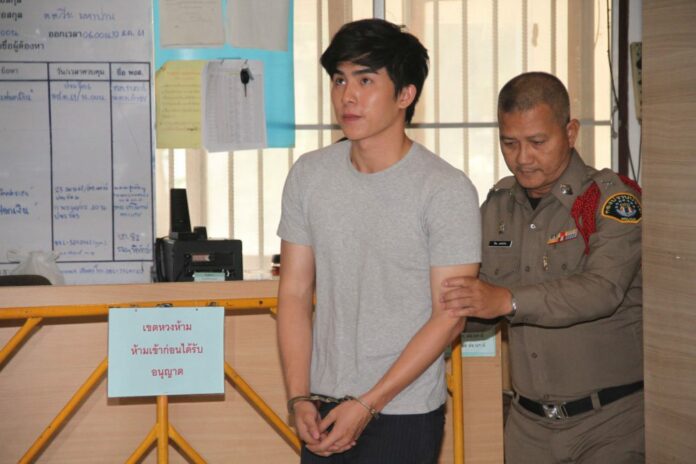 Update: The Criminal Court later Friday granted bail for Jiratpisit on a bond of 2 million baht. It gave the rationale that because the actor was working in a public place at the time of his arrest, he had no intention to flee. The court ordered him to remain in the country.
BANGKOK — An actor linked to a massive cryptocurrency scam was denied bail Friday as police allege his fugitive brother masterminded the lucrative con.
Jiratpisit "Boom" Jaravijit, 27, has been held at the Criminal Court after his arrest yesterday at a Bangkok shopping mall where he was filming. The Crime Suppression Division said it was seeking arrest warrants for five or six additional suspects they say conspired to trick a Finnish businessman into investing Bitcoin worth almost 800 million baht in several shell companies.
Read: Actor Busted For Massive Fintech Scam Targeting Foreigners: Cops
Investigators said they asked the court to deny Jiratpisit bail because the amount of money stolen made him a flight risk, adding that he insisted on his innocence.
Division chief Maj. Gen. Maitri Chimcherd said one of the suspects, Prasit Srisuwan – a prominent Thai investor – contacted authorities to say he was not involved in the scam, but police say they have evidence that he might have been an accomplice.
In 2016, national regulators banned Prasit for two years from the stock industry for approving credit lines to a string of customers without credible evidence of their financial backgrounds.
Maitri said Supitcha Jaravijit, Jiratpisit's sister who is also wanted for the case, is still in Thailand, but said he didn't know when she would turn herself in.
Deputy chief Col. Chakrit Sawasdee confirmed that the unnamed businessman from Finland was the sole victim of the scam. He declined to say how exactly the man was fooled.
He only said that some companies – which the scammers deceived him into believing were involved in Dragon Coin – are real companies founded by the Jaravijit family. One is registered in Hong Kong.
He added that Parinya Jaravijit, the actor's brother, could be the main culprit, and that he might have used some of his family members' bank accounts without their knowledge.
Maitri said Parinya has been accused of fraud before.