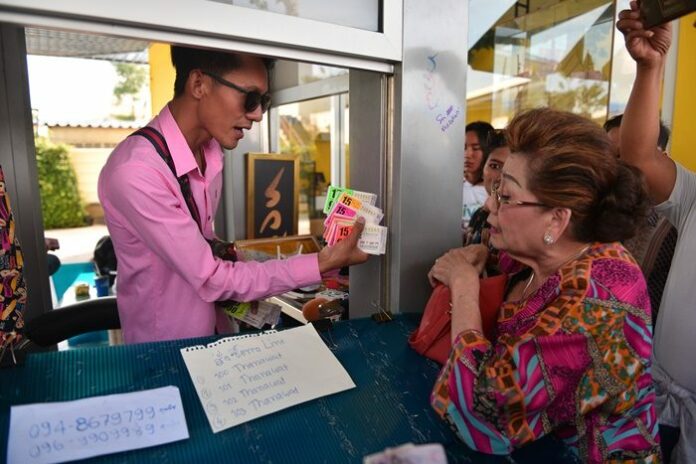 SAMUT SAKHON — Police on Sunday were seeking the arrest of a ticket seller thought to have doctored winning numbers for the national lottery.
The arrest warrant comes a day after Thanawat "Pete" Kumhaengpol, 35, allegedly confessed in a voice clip to falsifying winning tickets for the Sept. 1 jackpot.
"It was for fun. I doctored the [number] seven. Then I sent it for fun in Line," Thanawat said in an online clip on Saturday. "When I woke again, it was on the news."
Police Maj. Gen. Surachate Hakparn said Sunday that Thanawat could be charged with fraud, document forgery and breaking the Computer Crime Act.
Soon after the Sept. 1 jackpot was announced, Thanawat said he had sold 15 tickets through Line, and that they were all winning numbers. He told the press Thursday that his tickets had incorrect watermarks because they tore as customers fought over them.
Thanawat, a lotto ticket seller in a Samut Sakhon province gas station, was scrutinized after the Help Crime Victim Club Facebook page brought the matter to light. It questioned why the winnings had not been collected a week after the results were announced. The barcodes on Thanawat's tickets did not produce winning numbers when checked with the Government Lottery Office.
"We came out to scrutinize this story because it's very strange that one lottery ticket seller would have multiple 90 million baht jackpot tickets," a Saturday morning post by the crime Facebook page read. "And more than that, some people are superstitious enough to believe that buying tickets from one seller is luckier than another."