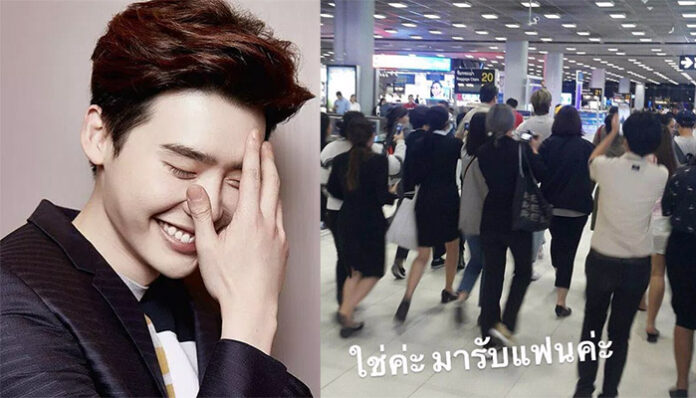 BANGKOK — Suvarnabhumi International Airport said Wednesday it will spend 20 million baht to step up security after two obsessive fans of a Korean film star impersonated customs employees to sneak into sensitive areas.
Fingerprint scanners and new ID cards will be among new security measures an airport official said will be launched next year to prevent a repeat of last week's incident in which two women were let inside secure areas by two employees to ambush the arriving star.
Read: K-Drama Fans Who Impersonated Airport Staff Face Charges
Airport Vice President Kittipong Kittikachorn said the unnamed pair will hear the charges against them today. They include trespassing at night in a secure area and violating aviation law. The maximum penalty for both charges combined is six years in jail and a 140,000-baht fine.
The two airport employees, Kittipong added, are also under investigation.
The women's stunt drew sharp criticism after one of them documented their caper on Instagram. In a series of posts, she bragged about seeing actor Lee Jong-suk, who arrived Friday night for a fan event, at the immigration checkpoint. In one of the since-deleted posts, the woman thanked someone on the inside working for the Customs Department.
She wrote that they changed into customs uniforms before entering the area. Copies of the original post with censored details were shared across social media, where they quickly drew the attention of airport authorities.
Kittipong said the unidentified staff, named as "Piano" and "Sai" in the Instagram posts, could be charged for allowing unauthorized people into a secure area and giving them their ID cards.
He blamed the incident on human error rather than flaws in airport security, adding that the security team in charge that night has been reassigned.
"I admit that the security team did not strictly follow procedures that day, allowing outsiders to slip in," Kittipong said.
There were three security checkpoints leading to the secure area, he noted. The women were able to get through the second by using the staff ID cards, which do not include photos of their holders, to meet the actor in a baggage claim area.
Lee, 29, draws fervent worship in Thailand for his roles in Korean soap operas.
To deter such mistakes in the future, Kittipong said the airport authorities approved spending up to 20 million baht to improve security systems.
"I'd like to ask all staff and related personnel to cooperate with the authentication process to keep up the security standards," he said. "For the safety of everyone, please comply willingly. We don't want something like this to happen again."