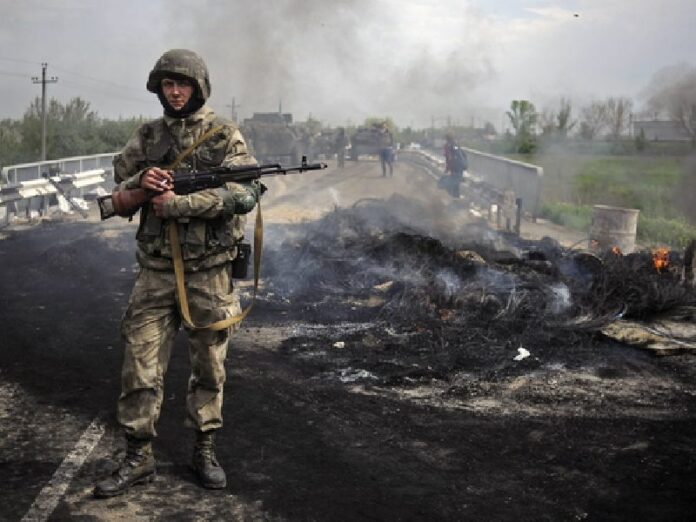 By Wolfgang Jung (DPA)
MOSCOW — Pro-Russian separatists in eastern Ukraine have released a team of military observers from the Organization for Security and Cooperation and Security in Europe (OSCE), the organization confirmed Saturday.
The seven observers – including German, Danish, Polish and Czech nationals – have been held in the city of Sloviansk since April 25, when they were detained by separatists who accused them of spying for NATO.
Upon their release, they were received by Thorbjorn Jagland, the Secretary General of the Council of Europe. Jagland is in Ukraine to oversee a joint human rights mission by his organization and the OSCE.
The group will travel to the eastern city of Donetsk, where the observers will board a plane to Berlin.
During negotiations, the rebels had said the observers would only be released on the condition that a prisoner exchange took place. The conditions of their release remain unclear.
The incident coincides with an increase in clashes between armed separatists and the Ukrainian military, which is carrying out a "counter-terrorism" offensive ordered by the leadership in Kiev to curb the unrest in the country's east.
The Ukrainian government has accused president Viktor Yanukovych of being behind the violent clashes that killed 46 people in the southern Ukrainian city of Odessa, the country's intelligence agency said on Saturday.
"The provocations that led to the unrest were financed by agents of Yanukovych's former government," said Yekaterina Kossareva of the Ukrainian intelligence agency SBU. Yanukovych is currently in exile in Russia.
Former Ukrainian premier Yulia Tymoshenko, meanwhile, blamed the Russian government for the unrest.
"Russia is using all means to destabilize Ukraine and to prevent the May 25 presidential election," Timoshenko said during an address in Odessa, adding that the Russian secret service was behind the clashes.
Polish Prime Minister Donald Tusk on Saturday referred to the clashes as an "undeclared war" on the part of Russia.
"What we are dealing with in the Ukraine is a war. But this is a new kind of war – a war that has not been declared," Tusk said in Warsaw.
"When there are dozens of casualties, arms are in use and helicopters are being shot down, then it is an armed conflict that has been organized not by protestors but by a nation state, namely Russia," Tusk said on Saturday in Warsaw.