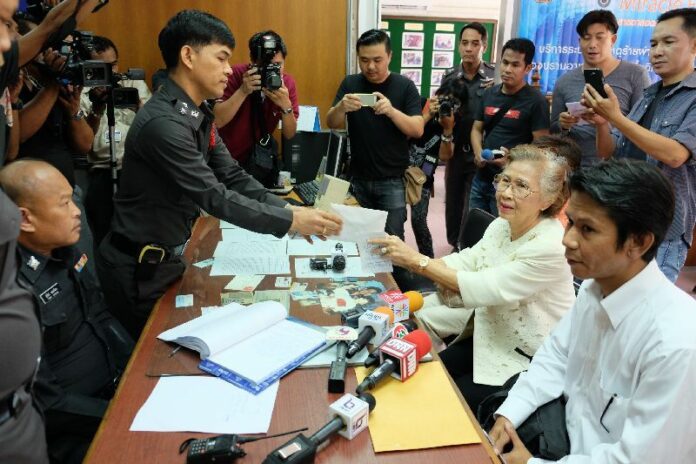 BANGKOK — The family of an army colonel who was brutally assaulted by a group of anti-government militants has formally initiated legal action against the perpetrators.
Col. Witthawat Wattanakul, a staff officer at the Royal Thai Armed Force Headquarters, was taken to the hospital after he was beaten and shot by a group of "guards" working for the anti-government People's Committee for Absolute Democracy With the King As Head of State (PCAD) on Chaeng Wattana Road in the early morning of 25 April.
It is understood that the guards were under the command of Buddhist monk and hard-line PCAD leader Buddha Issara.
PCAD representatives offered an apology and 50,000 baht to Col. Witthawat's family to help pay for his medical costs. A close aide to Buddha Issara claimed the incident was merely a "misunderstanding".
Today Col. Witthawat's family lodged a formal complaint with the police at Thoong Song Hong Police Station, urging authorities to arrest and prosecute the guards who assaulted Col. Witthawat.
Speaking to reporters in a press conference at the police station, Col. Witthawat's mother Bang-onrat Wattanakul said she returned the compensation money to the PCAD because her son's life "cannot be bought with money".
Ms. Bang-onrat, 76, said she refused to accept the PCAD's apology and would only settle the matter through formal legal procedures.
"There is no need for an apology. I pardon all of the perpetrators, but the law is still inviolable," Ms. Bang-onrat said.
She continued, "This is not about politics, it is about my son getting beat up without a chance to defend himself. He has no opportunity to demand fairness. My son is a disciplined solider. He has no desire to take revenge,"
Ms Bang-onrat called on Buddha Issara to identify and send the perpetrators who assaulted her son to the police.
"If Buddha Issara is a true man, he has to accept whatever wrongdoing he has done," the colonel's mother said, "Please don't protect the wrongdoer. This country will not survive if wrongdoers are not punished."
She also denied the allegation put forth by several PCAD activists that Col. Witthawat was drunk or behaving aggressively prior to the attack. According to Ms. Bang-onrat, Col. Witthawat was simply trying to remove traffic cones that were blocking the road he was driving on, but the gesture was deemed aggressive enough by the group of PCAD guards stationed in a nearby checkpoint.
Ms. Bang-onrat claimed that Col. Witthawat heard several gunshots and realised that he was shot in his legs, so he attempted to run and seek shelter near the Royal Thai Armed Force Headquarters, where he works, but the PCAD militants caught up with him and beat him until they discovered a military ID card in his car.
The most serious injury Col. Witthawat has received was a wound from a wooden stick that was swung at his head, narrowly missing his eyes, Ms. Bang-onrat said.
Ms. Bang-onrat also expressed outrage at the National Human Rights Commission's silence over the incident. "What are they doing? Innocent people are being harmed. Why is the [NHCR] not defending these people?" Ms. Bang-onrat complained.
She added, "I would like to thank the PCAD for merely beating up my son instead of murdering him and dumping his body into a river. It's already such a great mercy on their part. And I would like to warn all citizens not to go near PCAD-occupied areas unless they absolutely have to."
When a reporter asked whether her family will consider settling the matter outside the court, Ms. Bang-onrat replied that she will not comment on legal matters as she has already appointed a lawyer to handle the issue.
Col. Witthawat has not spoken to the press since he was admitted to hospital because of the attack, but Ms. Bang-onrat said her son has been making progress in his recovery.