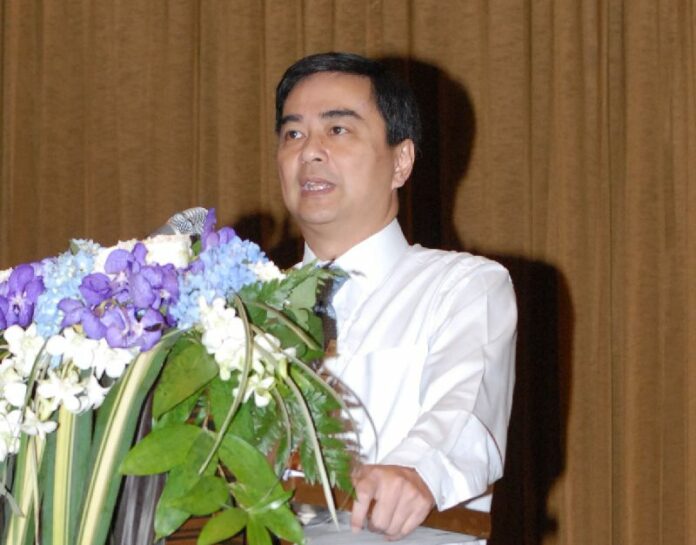 BANGKOK (DPA) — Thailand's main opposition leader called Saturday on the caretaker prime minister to resign to pave the way for a neutral government to preside over reforms and new elections as he presented a plan aimed at ending the country's political turmoil and deadlock.
Abhisit Vejjajiva, head of the Democrat Party and a former premier, said Yingluck Shinawatra should resign along with her cabinet before court rulings are handed down as early as this month. If found guilty of official misconduct, Yingluck could be dismissed along with all of her ministers, raising the possibility of escalated civil conflict.
"I see that we are heading for possible violence, a possible coup," Abhisit said as Thailand has been caught in months of sometimes violent demonstrations.
And initial reaction by at least one government minister to the proposal was negative.
"The resignation of the prime minister and the cabinet will not take place for sure," said Education Minister Chaturon Chaisaeng, a senior member of Yingluck's Pheu Thai Party. "Even if Yingluck resigned, I would not."
Abhisit's 10-point proposal calls for the Senate to appoint a neutral prime minister and interim government that would preside until new elections within about six months.
Voting is now scheduled for July 20 after a court annulled the results of February's elections, which were marred by protests, voting blockades, poll closures and a Democrat boycott.
Yingluck has been the target of street protests trying to topple her government for the past six months. The protest movement is demanding political reforms before any new elections.
Abhisit's proposal calls for the establishment of a council to draw up a reform agenda.
The reforms would be put to a referendum, which would be binding for the incoming elected government, Abhisit said.
"My proposal depends on Yingluck, who needs to decide on it before the pending court decisions," Abhisit said.
Yingluck – younger sister of former prime minister Thaksin Shinawatra, who was ousted in a 2006 coup and then convicted of abuse of power – is facing at least two critical legal challenges.
The Constitutional Court is to issue a verdict on allegations that she illegally transferred a national security official to make room for the advancement of a relative and political ally.
If she is found guilty, her entire cabinet may be disqualified from office.
She is also fighting charges of dereliction of duty before the National Anti-Corruption Commission in the mishandling of the government's rice-subsidy programme, a policy that helped propel her to office after the 2011 elections.
Her dismissal would likely bring out pro-government militants and lead to street violence, perhaps prompting a coup to restore order.