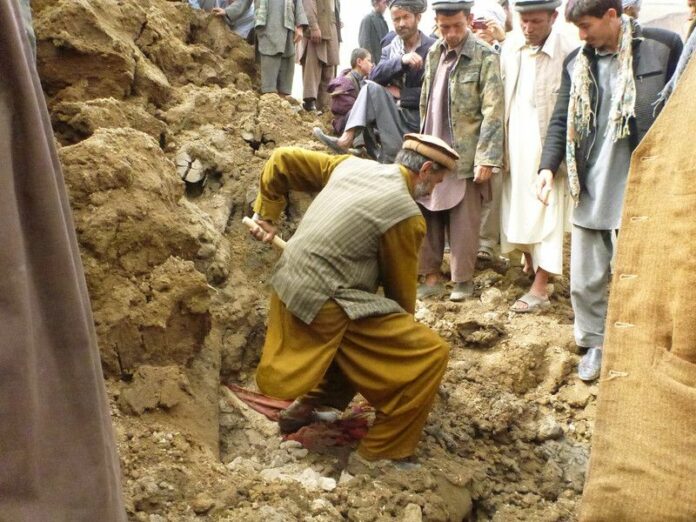 By Hafiz Ahmadi (DPA)
KABUL
—
The Afghan government on Saturday declared a north-eastern village a mass grave and suspended search and rescue operations, one day after it was hit by a mudslide in which the death toll ranged from 277 to more than 2,000 people.
The continuation of the search would be fruitless because no survivors would be found, Vice President Karim Khalili said after visiting mudslide victims in Ab-e-Barik in Badakhshan province.
"All our brothers and sisters who were under the tons of mud have died, and we pray for them," provincial Governor Shah Waliullah Adib said with Khalili in Faizabad, Badakhshan's capital.
Survivors, soldiers, police officers and rescue workers had been working with shovels, picks and excavators to try to find those missing until rescue work was suspended Saturday afternoon.
The disaster occurred Friday when torrential rains caused a hillside to collapse and bury the entire village in mud.
Khalili, who heads the state-run emergency relief committee, gave the death toll as 277, but the deputy provincial governor said 300 families, or 2,000 to 2,100 people, were missing in the mud.
"The death toll is expected to increase," Gul Ahmad Bedar warned.
An initial mudslide hit a wedding party in Ab-e-Barik. Most of the victims died, however, when a second landslide struck while they were rushing to aid the initial victims, a tribal elder who is in the area to help the survivors said.
"There were two mudslides," Abdul Maroof Rasekh said by telephone from Ab-e-Barik. "A number of people died in the first incident, and the second one buried those who had came to help."
He said about 300 bodies had been pulled from the mud and more than 2,000 people were still missing.
"I saw quite a tragedy," Rasekh said. "Everyone has lost a member of [their] family … or friends."
Survivors are worried more could die from disease because their water is polluted, they are surrounded by mud and living out in the open, he said.
The government is dispatching aid to the survivors, Khalili said, adding that 230 tons of food, clothing, tents and medicine was on its way.
About 1,000 families lived in Ab-e-Barik. About 300 houses and large areas of farmland were buried in the mudslide while 700 families, or about 2,000 people, survived and were evacuated, said Fazluddin Ayyar, provincial police chief.
President Hamid Karzai's office declared a day of mourning for Sunday while the NATO-led International Security Assistance Force (ISAF) and the European Union offered to help.
"ISAF stands ready to provide assistance as requested to the Afghan authorities who are leading the rescue and recovery operations," said General Joseph Dunford, ISAF commander.