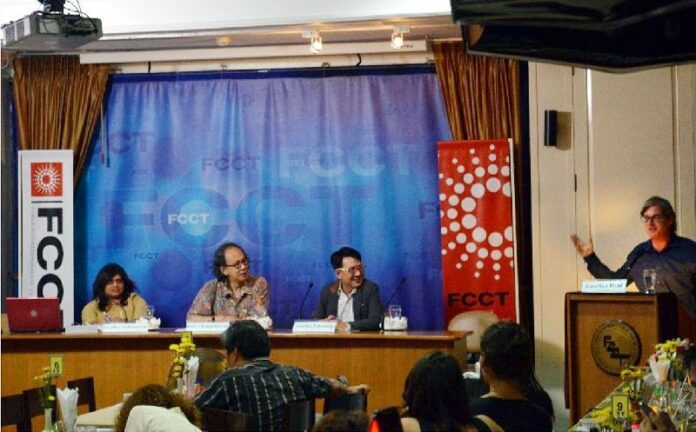 BANGKOK — Thailand's protracted political crisis has shined a spotlight on the capacity and credibility of the country's media, experts say.
"Elections have provided a space in which we can actually look at the media for what it is," Gayathry Venkiteswaran, Executive Director of the Southeast Asian Press Alliance, said in a panel discussion on press freedom hosted by Thailand's Foreign Correspondent Club in a run-up to World Press Freedom Day on 3 May.
According to Ms. Venkiteswaran, one of the most concerning trends exposed by Thailand's recent turmoil is the alarming number of politically-fueled threats directed at media outlets.
"People should be debating, people should be asking questions, but they should not be threatening either the journalists or the messengers," said Ms. Venkiteswaran.
Freedom of the press in Thailand is currently the worst its been in the past decade, according to Freedom House's 2014 report on press freedom around the world.
The report, released this week, attributes the erosion of media freedom in Thailand "to increased physical harassment and attacks on journalists and media outlets by political activists, often in the context of political unrest and demonstrations."
Since the most recent iteration of the country's decade-long political struggle—broadly waged between pro and anti-Thaksin Thais—ignited at the end of last year, there have been a number violent attacks on news organizations and journalists.
In November, anti-government protesters harassed staff from two government-owned TV stations and physically attacked a German journalist at a rally organized by the People's Committee for Absolute Democracy With the King As Head of State (PCAD).
Anti-government PCAD protesters also stormed six television stations in December, demanding a speech by the group's leader, Suthep Thaugsuban, be televised that night.
Most recently, a petrol bomb was thrown into the yard of an anti-government television show host in January, two grenades were thrown at a Thai PBS television station in February, a Redshirt radio station in Tak province was riddled by bullets in March, and an M79 grenade was launched at the office of the Thai-language newspaper, Daily News, several weeks ago.
As a result, former editor of the Nation Media Group Kavi Chongkittavorn said that Thailand's borders with Malaysia and Myanmar are no longer the country's most combustible regions.
"Now, the conflict zone lives in the heart of Bangkok," said Mr. Kavi.
Not only have there been a heightened number of threats and attacks over the past six months, but authorities have also largely failed to find and arrest those responsible for the violence.
"Both sides, the Democrat Party and Pheu Thai, have failed in terms of impunity," said Ms. Venkiteswaran. "There will be accumulated cases until we address that problem."
Freedom House's 2014 report also cites "partisanship and biased content at a number of media outlets" as a reason for the decline in Thailand's press freedom, which may explain why news organisations in Thailand are a frequent target of politically-motivated attacks.
BBC's Jonathan Head said he has seen Thai media has become increasingly polarized.
"People are listening to the media they like, so there is concentration of extreme views, and [they] never hear the other side," said Mr. Head.
According to Mr. Kavi, former editor of the Nation Media Group, Thai media is more involved in politics than ever before.
"Media has become the number one player in Thai political scene today," said Mr. Kavi. "It used to be the monarchy, the army, the bureaucrats, politicians … this time the media is out in front."
But Mr. Kavi said he worries that journalists in Thailand focus too heavily on the daily comments of prominent politicians, resulting in a 'he-said-she-said' style of reporting that lacks sufficient analysis of the broader conflict.
"[Reporters] will follow the speaker and focus on what they want to say, and what they have said, and then get the worst comment of the day," said Mr. Kavi. "They will continue day in day out, without thinking about … whether [their reports] help fuel the political fire at the moment or help to find a solution."
Journalists' ability to report freely in Thailand is also curbed by a number of legal statutes.
Thailand's lese majeste law, which outlaws any criticism of the monarchy—however oblique—can result in up to 15 years in prison per offense. Critics of the law say it is widely abused, particularly in times of political conflict.
The 2007 Computer Crimes Act has also been harshly criticized by advocacy groups like Reporters Without Borders and the Thai Journalists Association.
The legislation allows the government to arrest reporters for political reasons, as is currently the case with two journalists from Phuketwan news who are facing charges under the law for allegedly defaming the Royal Thai Navy by publishing an except from a Reuters report that alleged the navy's involvement in the trafficking of Rohingya.
"Bringing charges under the controversial Computers Crimes Act in a defamation case is indicative of the critical state of freedom of information in Thailand and amounts to an attempt to gag the media," said a Reporters Without Borders press release in December.
Ms. Venkiteswaran said the Southeast Asian Press Alliance is working on campaign to amend the Computer Crimes Act, and is monitoring the case of the two journalists from Phuketwan.
For comments, or corrections to this article please contact:[email protected]
You can also find Khaosod English on Twitter and Facebook
http://twitter.com/KhaosodEnglish
http://www.facebook.com/KhaosodEnglish