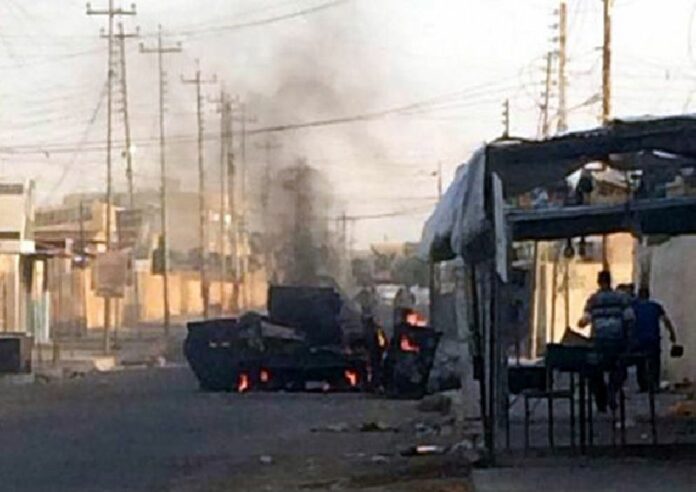 CAIRO (DPA) — The Iraqi parliament Thursday adjourned a session to vote on declaring a nationwide state of emergency due to lack of quorum, even as radical jihadists pressed ahead towards the capital Baghdad.
No date has been set for the next parliamentary meeting, independent Alsumaria TV said, a fiasco set to deepen Iraq's political and security woes.
Prime Minister Nuri al-Maliki and President Jalal Talibini had asked for declaring the state of emergency to grant the government sweeping powers to halt lightening advances by Sunni militants of the Islamic State in Iraq and the Levant (ISIL).
Critics of al-Maliki, a Shiite who has been in power since 2006, accuse him of monopolizing power and taking advantage of a military campaign against what he calls "terrorism" to marginalize the country's Sunni minority.
The parliament has been in a state of gridlock as rival politicians seem increasingly sceptical about the agenda of al-Maliki, who is seeking a third term as prime minister after his party secured the most seats in parliament following last month's elections.
The latest blow to al-Maliki comes amid reports that ISIL has pushed deep into the province of Diyala, some 75 kilometres south of Baghdad.
An ISIL leader has called on the jihadist group's insurgents to advance on Baghdad.
"March on Baghdad … where we have a score that must be settled," Abu Mohammed al-Adnani, the ISIL spokesman, said in an audio message posted on a jihadist website.
"Don't give up an inch you have liberated unless on your dead bodies."
Al-Adnani said his followers had seized military hardware, including jets and tanks, from the government troops in a series of recent daring raids in Iraq.
Earlier this week, the radical Sunni group took control of the northern province of Nineveh, including Mosul, Iraq's second largest city.
ISIL later captured parts of the Salah al-Din, north of Baghdad, sparking regional and international fears about the creation of a militant enclave that would stretch across Syria and Iraq.
According to Iraqi media, government troops, backed by warplanes, Thursday regained the central city of Tikrit, the hometown of late dictator Saddam Hussein, a day after militants seized it.
The report could not be immediately verified.
ISIL has controled Fallujah since January, a populous city in the western province of Anbar.
The group has also taken advantage of the conflict in neighbouring Syria, where it holds a considerable part in the east along the border with Iraq.
In Mosul, 31 truck drivers from Turkey that had been held hostage by ISIL militants since they seized the city have been released, CNN Turk and a labour union association reported.
Nearly 50 diplomatic staff from the consul office in Mosul are reportedly still being held.
Baghdad has said it would allow the United States to launch airstrikes against the militants, the Wall Street Journal reported, citing unnamed US officials.
The Obama administration was considering a range of options, including airstrikes carried out by drones or manned aircraft, senior US officials told the newspaper.
Iraq has previously requested the loan of US drones for its own forces to deploy against the militants, but Washington has so far refused.
Iraq has seen increasing violence over the last year, much of it blamed on ISIL and aimed at security forces and Shiite civilians.
The Shiite-led government's response, with security sweeps and mass arrests, has alienated Iraq's Sunni community from which ISIL and other rebel groups draw their support.