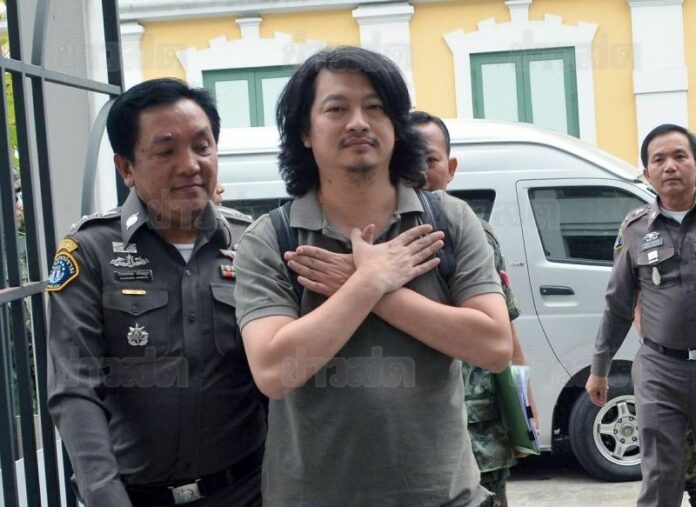 BANGKOK — Thailand's martial court has denied a veteran Redshirt activist and anti-coup leader release on bail, citing his threat to national security.
Sombat Boonngamanong was arrested on 5 June in Chonburi province after hiding from the military for two weeks to avoid a summons order. Instead of turning himself in, Mr. Sombat wrote on his social media, "Catch me if you can."
While in hiding, Mr. Sombat organized a number of flash anti-coup protests over social media.
After his arrest, Mr. Sombat was charged with inciting unrest, violating the Computer Crimes Act, and defying an order to report to the junta.
Today, the military court ordered that Mr. Sombat be held for 12 more days in the Bangkok Remand Prison.
Mr. Sombat's relatives and the Thai Lawyers for Human Rights tried to bail Mr. Sombat out, offering 400,000 baht and a statement promising that he will follow the junta's laws.
However, a constitutional arbitrator stated that Mr. Sombat's release could directly affect national securit and thus could not be permitted.
The military may extend Mr. Sombat's detainment four times, up to a total of 48 days.
Mr. Sombat was also an active campaigner against the last military coup in September 2006, when he a co-founded the 19 September Network Against Coup D'etat. He later split from the network and founded his own group, "Thais Say No," whose members adopted red shirts as their trademark, preceding today's Redshirt movement by a year.
For comments, or corrections to this article please contact: [email protected]
You can also find Khaosod English on Twitter and Facebook
http://twitter.com/KhaosodEnglish
http://www.facebook.com/KhaosodEnglish