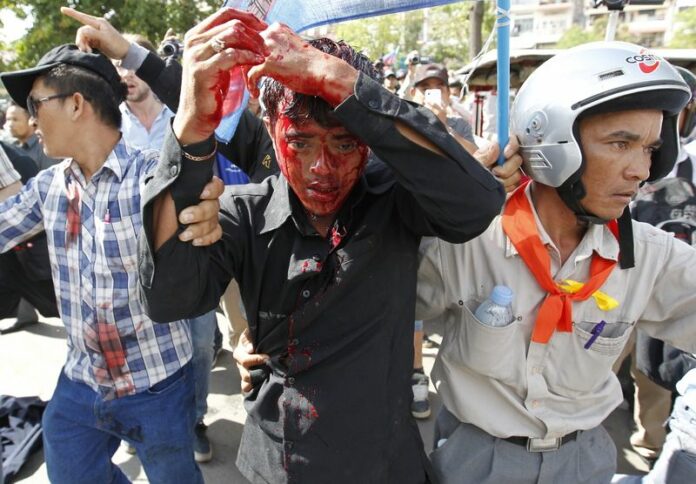 PHNOM PENH (DPA) — Clashes between police and opposition supporters broke out in Phnom Penh Tuesday over the barricading of a park to prevent anti-government protests.
Freedom Park has been blocked off for months since the government banned gatherings of more than 10 people. The opposition Cambodia National Rescue Party (CNRP) has used it as a base to call for the government to step down after disputed election
"Just this morning, at least 500 demonstrators organised by the CNRP and Mu Sochua and about 10 other CNRP lawmakers demanded the opening of Freedom Park," said Chan Soveth, of Cambodian rights group Adhoc.
"There were maybe 100 security forces from City Hall" employed to stop the demonstration, Chan Soveth said. When they tried to rip banners from the hands of some protesters, demonstrators turned against them.
"The demonstrators are angry and they beat back the security forces…[who] ran away," he said.
Tear gas was fired during the 20 minutes of clashes before more police were brought in and demonstrators dispersed.
"Mu Sochua [and two other elected legislators] are under arrest," Chan Soveth said.
She has been holding regular one-woman demonstrations at Freedom Park calling for freedom of assembly to be reinstated.
Opposition spokeman Yim Sovann said they did not condone the use of violence against the authorities.
"We apply the principle of non-violence," he said.
Cambodia has been locked in political dispute since elections last year which the opposition says were fraudulent. They have frequently protested, calling for Prime Minister Hun Sen to step down and for fresh or early elections.
CNRP legislators have refused to take up their seats in parliament.
Seven people have been killed by police gunfire at demonstrations over the past year.