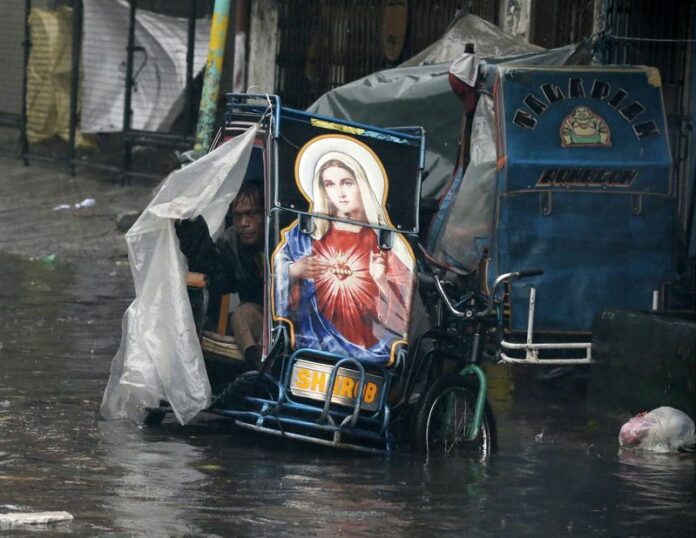 By Girlie Linao (DPA)
MANILA (DPA) — Typhoon Rammasun pounded the north-eastern Philippines on Wednesday, forcing the capital to shut down and killing at least 15 people.
Nine people, including an 11-month-old boy, died after being hit by trees, electric posts, concrete walls or other structures that were toppled or collapsed by winds of up to 150 kilometres per hour (kph).
Three drowned in swollen rivers, while two were hit by lightning and one died from a heart attack, disaster relief and police officials added.
The typhoon, locally called Glenda, whipped Manila for about four hours before weakening to winds up to 140 kilometres per hour (kph) and gusts of up to 170 kph, the weather bureau said.
It was moving away from the Philippines at 25 kph towards Vietnam, the bureau added.
Power was cut off in many parts of Manila and the eastern Philippines, where nearly 400,000 people fled their homes before Rammasun made landfall on Tuesday.
The howling winds sent debris flying in the air and felled trees, electric posts and steel sign posts, which blocked roads in Manila and surrounding areas. Antenna towers and cranes swayed as the typhoon's eye passed over Manila Bay.
In the Manila suburban city of Pasig, the terrace of a village hall collapsed, killing a volunteer, while a concrete fence collapsed near a construction area in Quezon City, injuring two people. The façade of a shopping mall in Makati City partially collapsed.
Classes at all school levels and work in government and some private offices were suspended in Manila, a metropolis of 12 million people. The financial markets were also closed.
More than 200 domestic and international flights were cancelled, while operations of Manila's overhead train system were suspended.
The typhoon's strong winds tripped many electric transmission lines, while some power plants were shut down to prevent accidents, according to Energy Secretary Jericho Petilla.
Petilla said restoration work would take up to three days in the eastern Philippines.
Rammasun is the strongest typhoon to hit the Philippines this year.
The country is still recovering from typhoon Haiyan, one of the world's strongest cyclones, which killed more than 6,200 people and displaced over 4 million in November.