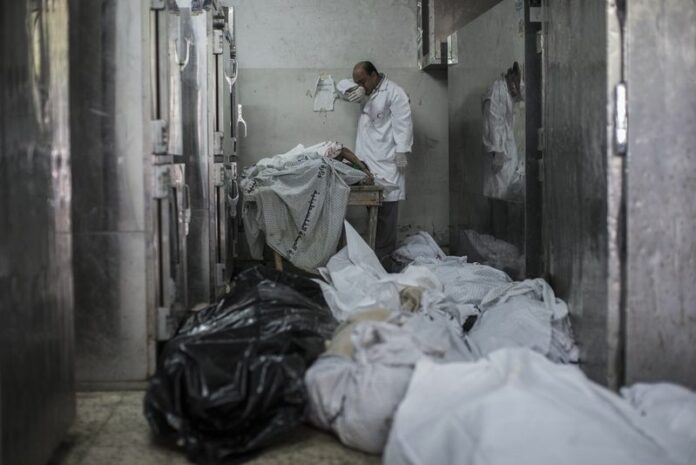 By Saud Abu Ramadan and Ofira Koopmans
GAZA CITY (DPA) — At least 87 Palestinians and two Israeli soldiers were killed in the worst of 13 nights and days of cross-border fighting, as Israel expanded a ground offensive in the Gaza Strip and heavily shelled an eastern Gaza City neighbourhood.
At least 60 Palestinians were killed in the neighbourhood of Shejae'yah, the deadliest incident in the fighting yet by far, Health Ministry spokesman Ashraf al-Qedra said, adding 400 were injured.
He called the heavy artillery and tank shell barrages on Shejae'yah a "massacre."
An Israeli airstrike in the same area on the home of Hamas leader Khalil al-Hayyah earlier also killed three members of his family and a neighbour, doctors said.
Israel, at the request of the Red Cross, agreed to extend a three-hour lull by another two hours, until 5:30 pm (1430 GMT), so that the wounded could be evacuated and bodies removed and for people to leave, military spokesman Peter Lerner said.
Palestinian militants fired guns and an anti-tank missile at Israeli soldiers during the lull, he said.
The shelling started in the darkness and continued until after daylight. Ambulances were initially unable to evacuate the wounded, with medics saying it was too dangerous.
One medic and one local freelance journalist were among the dead, al-Qedra said.
Palestinian television showed footage of seven bodies lying in a street, outside a shelled house. Al-Ashraf said 17 children, 14 women and four elderly men were among the dead in Shejae'yah.
Israel had issued warnings in recorded telephone calls, text messages and leaflets dropped by planes for residents to evacuate Shejae'yah.
But Gazans said that while residents had left eastern rows of buildings close to the border with Israel, many living deeper inside the neighbourhood had not heeded the evacuation calls.
Military spokesman Aryeh Shalicar said soldiers had come under heavy fire while operating in the densely populated area.
He said that over the past 13 days alone, 140 rockets had been launched at Israel from Shejae'yah alone.
Hamas officials announced over mosque loudspeakers that a Palestinian suicide bomber had blown himself up inside a tank and destroyed it. They also claimed that an Israeli soldier has been abducted, but there was no confirmation from the Israeli military.
Israel sent more troops into the strip overnight, expanding the ground offensive. It has so far called up about 55,000 reserve soldiers.
The troops still operate mainly on the eastern outskirts of populated areas, near the border with Israel.
Some 130,000 Palestinians have fled the border areas and become displaced, a Gaza-based rights group said. More than 60,000 have taken refuge in UN schools.
Large columns of people were seen leaving Shejae'yah, carrying their belongings.
The main focus of the ground troops remains tracing and blowing up tunnels, officials said.
They said Palestinian militants have constructed a sophisticated network of tunnels under Gaza City and elsewhere.
They have used such tunnels to take cover, hide rocket stockpiles, and infiltrate Israel for the purpose of carrying out attacks and abduct Israeli soldiers or civilians for use as bargaining chips, the military said.
Several militants who infiltrated Israel through one such tunnel over the weekend had plastic handcuffs and anaesthetics with them for their intended victims, it said.
Shejae'ya is a focal point, with buildings hiding entrances to the tunnels.
The Gaza death toll in the offensive that started with airstrikes on July 8 and expanded with ground forces late Thursday crossed well over 425 with 3,008 injured, al-Qedra said. The dead included 112 children, 41 women, 25 elderly men, he said – 40 per cent.
So far, five Israeli soldiers and two civilians have been killed. A man was killed and a 3-month-old critically injured when a rocket hit a Bedouin housing cluster in the Negev desert in southern Israel. The baby's mother was also injured.
At least 50 soldiers have been injured in the Gaza ground fighting.
Meanwhile, a source in the Egyptian Foreign Ministry denied that Egypt had invited Hamas chief Khaled Meshaal to Cairo to discuss a proposed Gaza ceasefire.
The source said claims by Hamas to have rejected an invitation from Egyptian authorities were "part of a series of lies, allegations and equivocations by leaders of Hamas."
Hamas sources overnight said that Egypt – which has a tense relationship with Hamas – had invited its Meshaal to discuss an Egyptian ceasefire plan in Cairo and that Meshaal had rejected the overture, saying that Hamas's position on the Egyptian plan was "well-known."
Meshaal and Palestinian President Mahmoud Abbas are to meet Sunday in Qatar for talks on a ceasefire.
UN Secretary General Ban Ki-moon was due in Doha on a whirlwind tour of Middle East capitals, in a bid to broker a ceasefire.