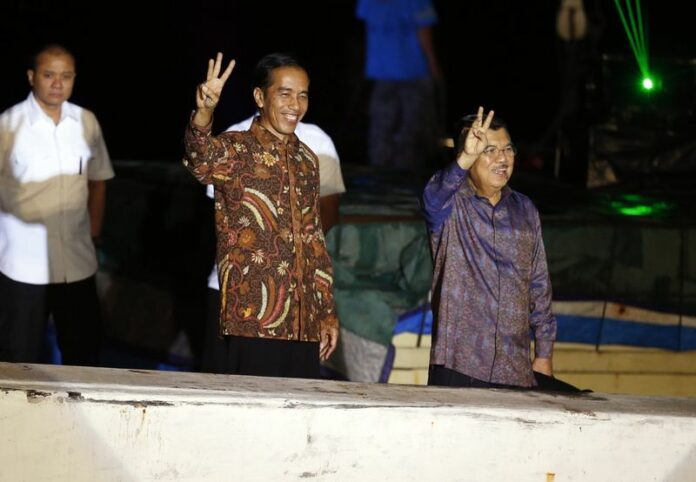 By Ahmad Pathoni
JAKARTA (DPA) — Losing Indonesian presidential candidate Prabowo Subianto on Wednesday denied he withdrew from the election process and said he was preparing to challenge the results of the vote.
The electoral commission on Tuesday declared Prabowo's rival, reformist Jakarta governor Joko Widodo, the winner of the July 9 election with 53.1 per cent of the vote to Prabowo's 46.9 per cent.
"Let us be clear, Prabowo never withdrew as a candidate. He only withdrew from the vote verification process," Prabowo's campaign spokesman Tantowi Yahya said.
"Prabowo … has always been and remains committed to upholding the integrity of the electoral process, and we are in the process of preparing our challenge in the Constitutional Court," he said.
In a surprise move earlier on Tuesday, Prabowo withdrew from the election process, citing "massive and systemic" election fraud.
"We reject the 2014 presidential election that was legally flawed, and therefore we withdraw from the ongoing process," Prabowo said.
His lawyer Muhammad Mahendradatta told reporters afterwards that Prabowo would not challenge the election results in the Constitutional Court because he did not have legal standing anymore.
Mahendradatta said Wednesday that Prabowo had clarified his stance and that he had standing to challenge the result.
Prabowo has two days to file his case to the court, which then will have one month to rule on the dispute.
Prabowo's brother Hashim Djojohadikusumo said his campaign was demanding an investigation into irregularities at 52,000 polling stations across the country which could cost him millions of votes.
"We may still lose but that's the only way we can accept the results," he said, adding that Prabowo's team would not stop the legal fight until "we get satisfactory redress."
Prabowo had asked the election commission to stop the counting process until all allegations of fraud had been investigated, but the electoral commission ignored the demand.
There were fears of clashes involving rival supporters if either candidate refused to accept defeat after an unusually heated campaign marked by mudslinging, nationalistic rhetoric and slander.
In his victory speech late Tuesday, Joko called for unity.
"With our humility, we call on all Indonesians to return to being a united nation," he said. "Politics is about joy, wisdom and freedom."
Joko, 53, was a little-known local politician before he joined the race to become Jakarta governor in 2012 and is seen as representing a break from the country's autocratic past.
He has earned admiration for his hands-on leadership and ability to connect with ordinary people.
The 62-year-old Prabowo, who was once married to one of former president Suharto's daughters, has amassed a fortune as a businessman and is seen as representing the country's elite old guard.
He styles himself as a strongman leader but has been dogged by allegations of human rights abuses during his time in the military.