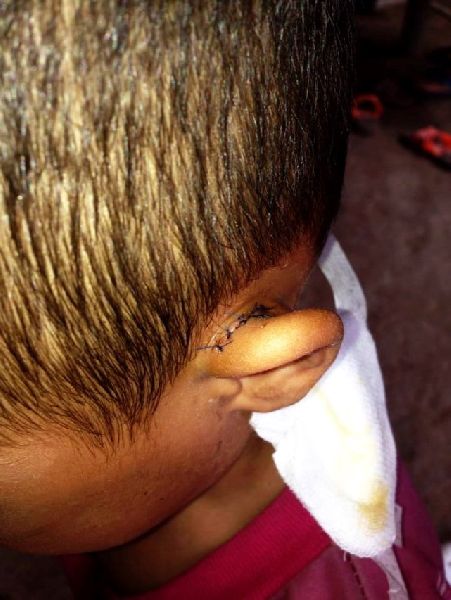 MAE HONG SON — A school in Mae Hong Son province is investigating a teacher who allegedly attempted to saw off the ear of one of her 4-year-old students.
Parents of the boy said the Kindergarten teacher punished him in the classroom by using a metal ruler to cut his left ear. The incident reportedly took place on 17 July inside the school, which is located in Mae Sarian district.
According to his parents, the child needed five stitches.
School director Praewnapha Thamniamton said an investigation has been launched into the incident. The teacher's identity has not yet been made public.
Ms. Praewnapha said the school administrators have twice received complaints from parents about the teacher's violent punishment of her students.
"We already put her on probation and the teacher promised us she would not do such thing again," said Ms. Praewnapha.
As for the latest case of alleged violence, the teacher insisted on her innocence, yet all of the students in the classroom said she was guilty, Ms. Praewnapha said.
"We will find facts about this and give fairness to all sides," the school director said.
Corporal punishment is common in Thai public schools, where students are subject to rigorous discipline and uniformity.
For comments, or corrections to this article please contact: [email protected]
You can also find Khaosod English on Twitter and Facebook
http://twitter.com/KhaosodEnglish
http://www.facebook.com/KhaosodEnglish