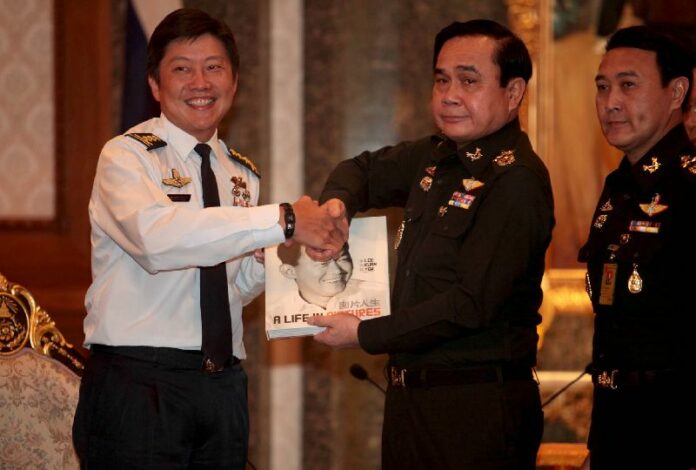 BANGKOK — A top official has confirmed that the leader of Thailand's military junta leader could become Prime Minister under the Kingdom's new temporary constitution.
"This Constitution does not bar the NCPO leader from being Prime Minister," said deputy chief of the Royal Thai Army Gen. Paiboon Koomchaya, referring to the chairman of the National Council of Peace and Order, Gen. Prayuth Chan-ocha.
According to Article 19 of the new constitution, which was unveiled last night following a royal endorsement by His Majesty the King, an appointed National Legislative Assembly will choose a new Prime Minister to govern the country until the next election, which is set for the end of 2015 at the earliest.
Article 20 states that the new Prime Minister must be Thai, older than 40 years of age, and not a member of any political party in the past three years. The article also bars judges, attorneys-general, Election Commissioners, state treasury auditors, and National Human Rights Commissioners from taking the premiership.
In effect, the article prohibits many prominent and active political figures from taking the top job without placing any restrictions on military officers and bureaucrats, who were barred from office in Thailand's previous constitution.
The 2007 Constitution was dissolved by the NCPO after it seized power in the 22 May coup d'etat.
However, even if Gen. Prayuth does not take the office, Article 44 of the provisional constitution grants the NCPO chairman sweeping power to "order, suspend, or take action regardless of its effect on the legislative, executive, or the judiciary."
Gen. Prayuth has refused to address speculation that he will be Prime Minister.
For comments, or corrections to this article please contact: [email protected]
You can also find Khaosod English on Twitter and Facebook
http://twitter.com/KhaosodEnglish
http://www.facebook.com/KhaosodEnglish