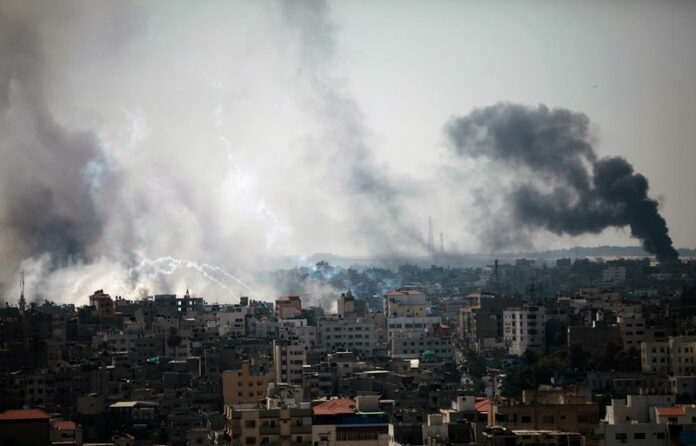 By Ofira Koopmans and Saud Abu Ramadan
TEL AVIV/GAZA (DPA) – Israeli resumed its military offensive in the Gaza Strip on Sunday, canceling a humanitarian ceasefire that was to have lasted until midnight, after Palestinian militants rejected an extension of the truce and launched a barrage of rocket attacks.
"Following Hamas' incessant rocket fire throughout the humanitarian window, which was agreed upon for the welfare of the civilian population in Gaza, the IDF (Israel Defence Forces) will now resume its aerial, naval and ground activity in the Gaza Strip," a military statement said.
"The IDF has repeatedly called out to the civilian population of Gaza not to approach combat zones."
The Qassam Brigades, the armed wing of the Islamist Hamas movement that controls the Gaza Strip, said it launched five Grad missiles towards the southern city of Ashdod and one M75 missile at Tel Aviv. The Quds Brigades, the armed wing of the smaller Islamic Jihad faction, also claimed several attacks.
Sirens sounded across southern and central Israel in the morning. One missile landed in Petah Tiqwa, east of Tel Aviv, but no one was injured, witnesses said.
Israel's Iron Dome defence system intercepted at least two missiles over Ashdod and Ashkelon, while others landed in an undeveloped area between the two southern coastal cities.
Israeli Prime Minister Benjamin Netanyahu's security cabinet agreed Saturday to extend a humanitarian ceasefire for 24 hours, until midnight (2100 GMT) Sunday, but said the military will continue to destroy Hamas' tunnel networks in the Gaza Strip.
Hamas spokesman Sami Abu Zuhri said the humanitarian ceasefire was "unacceptable" because Israeli soldiers continue searching for and destroying tunnels, and do not allow residents to return to their homes in some areas.
At least 1,049 Palestinians have been killed in the nearly three-week-long conflict. Scores of bodies were recovered from the rubble of bombed homes during the initial truce that began at 8 am (0500 GMT) Saturday.
More than 6,000 Palestinians have been wounded, Gaza Health Ministry spokesman Ashraf al-Qedra said.
An Israeli soldier stationed outside Gaza died from mortar shrapnel late Saturday, the military said, bringing to 43 the number of soldiers killed since Israel sent ground troops into the salient on July 17.
The military warned Gaza residents not to return to previously evacuated areas. "Those who ignore these warnings are placing themselves at risk," it said.
As Gaza residents surfaced to buy food and supplies and inspect their homes during the 12-hour truce Saturday, the vast extent of the damage in became apparent. Entire blocks of buildings had been razed in eastern Gaza, where the fighting is concentrated, creating a grey landscape of rubble.
Thy also used the period of relative of calm after 19 days of fighting to bury the dead.
Just before the temporary truce went into effect, at least 18 members of one Palestinian family, including 10 children, were killed in an Israeli airstrike.
At least six Palestinians were also killed in the West Bank during two days of protests in solidarity with the people of Gaza.
Hopes for a longer ceasefire were dashed when the Israeli government rejected a deal put forward during a meeting in Paris on Saturday that was attended by top diplomats from the United States, France, Germany, Italy, Turkey and Qatar.
Turkish Foreign Minister Ahmet Davutoglu said the participants were very close to reaching a seven-day ceasefire deal, "but Israel rejected the proposal at the last minute."
German Foreign Minister Frank-Walter Steinmeier said earlier in the discussions that a lasting ceasefire could only be achieved when "Gaza no longer serves as an arsenal for Hamas and living conditions of the Palestinian people are improved."