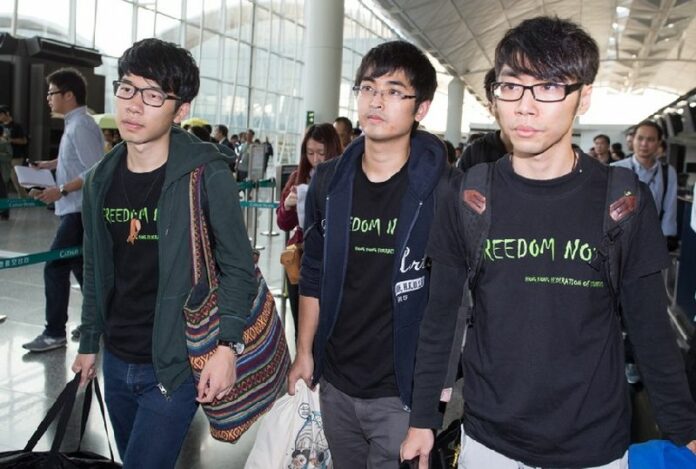 By Christy Choi and Joanna Chiu
HONG KONG (DPA) – Student leaders of Hong Kong's pro-democracy movement hoping to hold talks with Chinese leaders were denied passage to mainland China on Saturday.
Hong Kong Federation of Students leader Alex Chow and deputies Eason Chung and Nathan Law were turned away from boarding a plane at Hong Kong International Airport.
"Cathay Pacific airline has confirmed from mainland Chinese authorities that [the students] had their home return permits cancelled," a student spokeswoman told dpa.
The trio were seeking a meeting with Chinese Premier Li Keqiang and government leaders to "voice the opinion of Hong Kong people" and to protest against Beijing's attitude towards them, Chow told reporters.
The activists are calling for open elections for the Chinese territory's next chief executive in 2017, rejecting Beijing's decision to have a closed election committee nominate two to three candidates for the public vote.
Beijing had promised that chief executive elections would be the first to be held through universal suffrage.
The city's number two official, Chief Secretary Carrie Lam, called the students' visit "unnecessary" because the central government was already aware of the Hong Kong people's hopes of universal suffrage.
Lam had announced upcoming public consultations on electoral reform but said there will be "no room for dialogue" on any demands from students that are not within the scope of the government's agenda.
Meanwhile, Hong Kong officials are preparing to clear pro-democracy protest sites across the city as courts earlier this week ruled to allow police to arrest those who resist removal.
A court ruling on Tuesday stated that protesters will face arrest if they prevent bailiffs from removing barricades from sections of protest sites in Admiralty and Mong Kok.
When asked Friday about students' hopes to have talks in Beijing, Chinese Foreign Ministry spokesman Hong Lei referred to earlier ministry remarks calling the protests in Hong Kong "illegal."
Some leaders of the protest movement have said they are considering surrendering themselves to police next week to show they are willing to bear the consequences of their civil disobedience.
But student protest leaders say they would rather be arrested than turn themselves in.
Britain negotiated a "one country, two systems" principle as part of the 1997 handover of Hong Kong to Chinese rule. It grants freedoms to Hong Kong residents that are not given to Chinese citizens on the mainland, and allows Hong Kong relative autonomy until 2047.