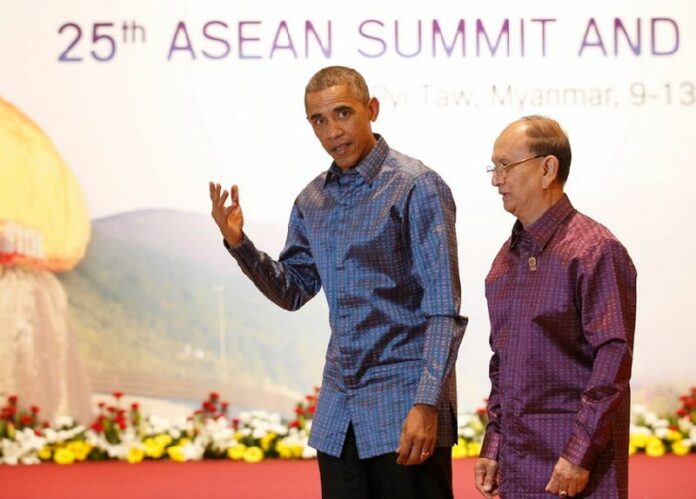 By Jacob Goldberg
A Khaosod English correspondent attends the town hall style meeting by US President Barack Obama in Yangon, where he answered questions about democratisation, ASEAN integration, and climate change from young leaders around the region.
YANGON – "Rock-paper-scissors!" US President Barack Obama teased two students who were vying to ask him a question during a town hall meeting in Yangon on Friday.
The president's jest reflected the casual tone of his appearance at Yangon University on November 14, where he fielded questions from about 400 members of the Young Southeast Asian Leaders Initiative (YSEALI). Throughout the event, the president's words were met with frequent applause, with his jokes and Burmese mispronunciations eliciting choruses of laughter.
President Obama kicked off the hour-long event by explaining his administration's interest in the region. He cited his personal experience of living in Indonesia as a child, and the fact that Southeast Asia is home to one tenth of the world's population, two thirds of whom are under 35 years old.
"This region will shape the twenty-first century," he told the rapt audience.
ASEAN Integration
One student asked President Obama whether he expected member states of the Association of Southeast Asian Nations (ASEAN) to integrate in the near future.
"Integration is inevitable because of the nature of economies today," Obama answered. Citing the example of a man he saw in Yangon who had a smartphone but no shirt, Obama said the that forces of globalization make integration among ASEAN countries inevitable.
However, he stressed that for regional integration to yield greater successes, especially in the form of the Trans-Pacific Partnership, ASEAN countries must pass laws that encourage entrepreneurship and protect intellectual property.
"No one will want to invest in a country where they know that their ideas could just be copied by their neighbour. That's why people prefer to invest in the United States," the president said.
He also said that in order for democracy to take hold in ASEAN, leaders must learn to apply constructive criticism to each other.
"ASEAN leaders don't like to criticize each other. They think it's not respectful," the president said
Democratisation
Obama's assessment of Myanmar's ongoing transition from a military dictatorship to a nascent democracy echoed much of what pro-democracy icon Aung San Suu Kyi expressed in the days leading up to his arrival.
"The journey of progress is not completed overnight," Obama told the students on Friday. "There are setbacks and false starts, and sometimes even reversals. It's happened here in the past two or three years."
At a National League for Democracy (NLD) press conference last week, Suu Kyi cautioned against undue optimism about Myanmar's reform process.
"I would like to challenge those who talk so much about the reform process – what significant reform steps have been taken within the last two years?" she asked.
While Obama noted some of Myanmar's recent setbacks, including attacks on journalists and ethnic minorities, he stressed that it's important to acknowledge what progress has been made, even if "some reforms have not come quickly enough."
Several youth leaders questioned the president about Myanmar's often volatile ethnic tensions. One Burmese student asked Obama about his thoughts on the value of creating an inclusive national identity.
Obama replied that there is nothing wrong with uniting around an ethnic identity or religious affiliation, but that "it's important that people's identities are also a national identity."
"The United States could not live up to its potential until it treated its Black citizens fairly," he said. "Without a strong national identity, the country will start breaking apart, and democracy will not work."
Obama encouraged the students to build trust across ethnic and religious lines, and to secure the gains of democracy "through struggle and discipline and persistence and faith."
Though he refrained from using the term "Rohingya" – the name of the Muslim minority in the Rakhine State who human rights groups have called one of the most persecuted peoples on the planet, he made clear that "American is still deeply concerned with the humanitarian situation in Rakhine State."
Obama did use the word at his press conference with Aung San Suu Kyi earlier in the day in response to a question posed to him by a journalist.
Climate Change
For the final question of the evening, President Obama insisted on hearing from a YSEALI member who was from an ASEAN country other than Myanmar. A young man from the Philippines asked the president what steps the US is taking in conjunction with ASEAN countries to curb climate change.
The president began his response by assuring the audience, "Let's first establish the science and the facts. The planet is getting warmer."
After briefly explaining the effects of greenhouse gases on the atmosphere and rising sea levels, he went through the policies he hopes to see enacted in the US and throughout ASEAN. First, he attacked the idea of energy subsidies.
"When you subsidize energy, there is no incentive to use less. The best countries in the world [at combating climate change] tax energy use," he said.
He also criticized deforestation practices in Indonesia, saying, "This has a devastating effect on the climate."
President Obama left the students with a mandate as he wrapped up the town hall session.
"Old people have created a mess, and then they'll be gone," he said. "The issue of climate change is perfect example of why young people have to lead."
For comments, or corrections to this article please contact: [email protected]
You can also find Khaosod English on Twitter and Facebook
http://twitter.com/KhaosodEnglish
http://www.facebook.com/KhaosodEnglish