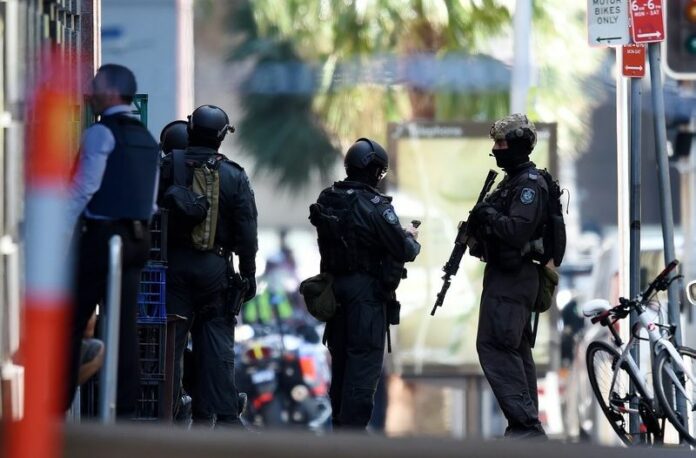 By Frank Walker
SYDNEY (DPA) — Police stormed a central Sydney cafe early Tuesday after a fringe Islamist with a criminal record allegedly held customers and staff hostage at gunpoint for more than 16 hours.
The suspected gunman, who came to Australia as a refugee from Iran in 1996, was killed as well as two hostages.
The 34-year-old manager of the Lindt Chocolate cafe died grabbing the shotgun off Monis when he appeared to be dozing off around 2 am (1500 Monday GMT), News.com.au reported.
A 38-year-old lawyer and mother of three was reportedly killed trying to defend a pregnant friend.
Six hostages ran from the cafe in the central Martin Place at 2:10 am, shots were heard, and police threw stun grenades and charged into the building. About 60 seconds of gunfire and explosions were heard, and four people were injured.
A bomb-disposal officer and robot were moved into the cafe, and police said the siege was over at 2:30 am.
"Australians should be reassured by the way our law enforcement and security agencies responded to this brush with terrorism," Prime Minister Tony Abbott said.
The gunman, named as Man Haron Monis, 49, was known to authorities for extremist tendencies and mental instability.
New South Wales police commissioner Andrew Scipione said officers moved in "as a result of exchange of gunfire in the premises," as they were convinced "there would have been more deaths" had they not.
Monis came to the attention of authorities when he was charged with sending offensive letters to the families of Australian soldiers killed in Afghanistan, news reports said.
He was on bail awaiting trials for being an accessory to the murder of his ex-wife, and for 40 indecent and sexual assaults connected to his practice as a self-titled spiritual healer.
After entering the cafe at 9:45 Monday, the gunman forced hostages to record videos passing on his demands.
Media outlets refused to broadcast the footage during the siege after requests from police, but they started to surface online Tuesday.
The requests include that police bring a flag of extremist Middle Eastern group Islamic State to the café, asking for the media to broadcast that he was acting on behalf of that group, and to talk with Prime Minister Tony Abbott on live radio.
The hostages were recorded saying the gunman would release one of them when each demand was met. They also said he claimed to have planted bombs in the cafe and elsewhere in Sydney, Channel 10 TV reported.
Australia's grand mufti, Professor Ibrahim Abu Mohammed, and the Australian National Imam Council used a joint statement to "condemn this criminal act unequivocally and reiterate that such actions are denounced in part and in whole by Islam."
During the siege the area around the cafe was cordoned off and the New South Wales Parliament at the end of Martin Place was in lockdown. Staff were told to lock themselves in their offices.
The US consulate, 50 metres from the cafe, was closed and evacuated. A park in the city and the Sydney Opera House were evacuated after suspicious packages were reported.