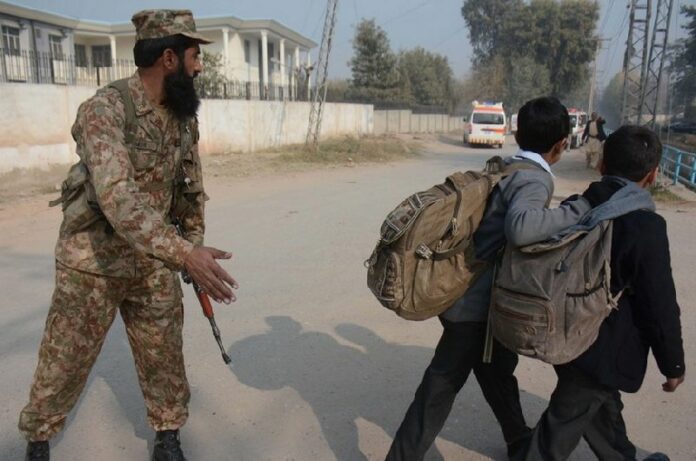 By Zia Khan
ISLAMABAD (DPA) — More than 140 people, the vast majority children, were killed at a military-run school in north-western Pakistan Tuesday in an attack by Islamist militants, local authorities said.
At least 141 people, including more than 132 children, died before army commandos killed all the attackers and regained control of the building, said Pervaiz Khattak, chief minister of Khyber-Pakhtunkhwa province.
The army raised from six to seven the number of Taliban attackers it believed had held hundreds of students and teachers hostage at the Army Public School in the north-western city of Peshawar. They were killed in a five-hour long operation.
At least one the assailants detonated a suicide vest, the military said.
The Taliban had said six of their fighters were involved in the attack.
Scores of children suffered severe bullet wounds during the assault, with some in critical condition, provincial Education Minister Mushtaq Ghani said earlier.
Television pictures showed relatives being held outside a security cordon around the school as the area was sealed off.
At one point, police estimated that at least 500 students were being kept inside an auditorium.
There was "intense gun fighting" as Pakistani troops battled the assailants, Khattak said.
Witnesses heard around a dozen loud explosions and saw heavy smoke at the school. Helicopters were flying overhead.
The Pakistani Taliban claimed responsibility for the raid, saying it was revenge for a military offensive against militants in the north-western tribal region.
The army launched an offensive in the restive region in June and said recently it had killed more than 1,100 rebels.
Pakistani Prime Minister Nawaz Sharif announced three days of mourning for the victims of the massacre, while Nobel Peace laureate Malala Yousafzai said she was "heartbroken by this senseless and cold-blooded act of terror in Peshawar that is unfolding before us."
Sharif added: "I feel that, until and unless this country is cleansed from terrorism, this war and effort will not stop, no one should be doubtful of this."
The international community were quick to express sympathy with Pakistan's suffering.
The prime minister of Pakistan's regional rival, India, Narendra Modi, condemned the "cowardly terrorist attack," saying: "It is a senseless act of unspeakable brutality that has claimed lives of the most innocent of human beings – young children in their school."
US President Barack Obama condemned in the strongest terms the "horrific" attack on the army-run school in Peshawar.
"By targeting students and teachers in this heinous attack, terrorists have once again shown their depravity," read a White House statement.
Afghan President Ashraf Ghani condemned the "barbaric" attack on a military-run school in Pakistan.
"Killing innocent children is a completely anti-Islamic and inhumane act, and I condemn this barbaric attack in the strongest terms," Ghani was quoted as saying in a statement.
Condemnation also poured in from the United Nations and the European Union.
UN Secretary General Ban Ki-moon condemns in the strongest terms the "bloodcurdling" terrorist attack against a Pakistani school that killed nearly 140 people.
"No cause can justify such brutality, no grievance can excuse such horror," Ban says.
"Getting an education is every child's right. Going to school should not have to be an act of bravery."
EU foreign policy chief Federica Mogherini expressed "shock" at the attack, which shows "how strong the threat posed by the Taliban still is and how fragile and dangerous" the situation in the region remains."
"When innocents are killed, when children are targeted in their place of study, it is an attack not only on universally recognised values and rights but also on the future of the country, on all our futures," the EU's top diplomat added.
EU Parliament President Martin Schulz also expressed his condolences to the victims and their families.
This abhorrent and cowardly attack leaves us stunned and speechless, and shows once again the inhumanity with which the Taliban acts," Schulz said, adding, "What is particularly shocking is that they do not draw a line at the murder of children."
For comments, or corrections to this article please contact: [email protected]