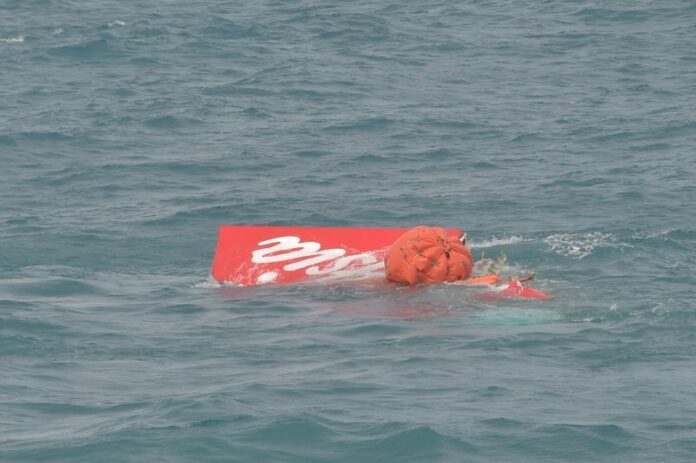 By Ismira Lutfia Tisnadibrata
JAKARTA (DPA) – The search party working to recover wreckage of a crashed AirAsia flight hoisted the plane's tail section out of the Java Sea Saturday, local media reported.
Footage on TV One broadcaster showed what appeared to be the airline's logo floating next to orange bags used to lift the tail section from the seabed about 30 metres below.
The object was being towed toward the approaching Crest Onyx towing ship belonging to Indonesian energy regulator SKK Migas.
"We are going to attach the tail and securely fasten it to the ship, so that divers can thoroughly re-check if the flight data recorder is still inside the tail," armed forces chief General Moeldoko told TV One.
A preliminary check by divers conducted soon after the tail section was found failed find the flight data recorders inside, where they would normally be located.
Suryadi Supriyadi, the national search and rescue agency's operational director, said the recorders could have been detached from the plane as it crashed to the bottom of the sea.
The homing beacon emitted by one of the recorders appeared to be about a kilometre from where the tail section was found, based on the signal detected by Indonesian ship KN Jadayat.
For comments, or corrections to this article please contact: [email protected]
You can also find Khaosod English on Twitter and Facebook
http://twitter.com/KhaosodEnglish
http://www.facebook.com/KhaosodEnglish