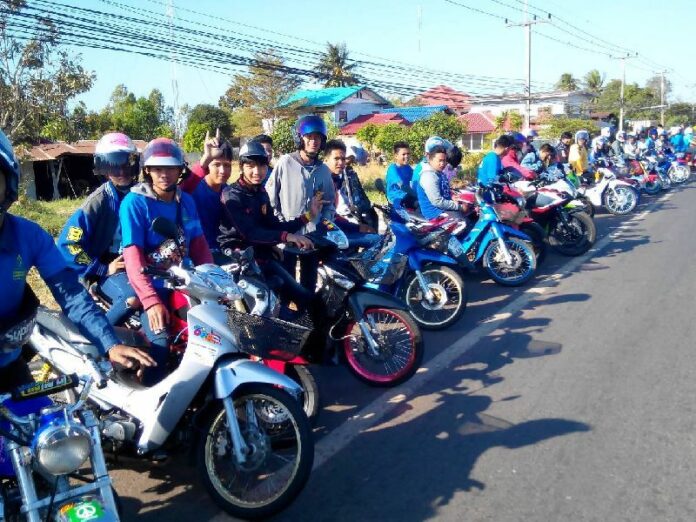 AMNART CHAROEN — A motorcycle gang in Amnart Charoen province organized a food drive for poor children in celebration of Thailand's National Children's Day today.
Over 100 members of the gang gathered in front of a motor repair shop in the province at around 1 pm to participate in the charity event.
Attawut Chonthong, the leader of the gang, which is called "Dunlow," said he collected donations from fellow members and bought food, snacks, and drinking water for poor children in the province.
The group will also donate some money to a local shelter home that houses orphans, Attawut said.
Many teenagers in Thailand's urban areas form gangs called "dek vans" (literally, racing kids) and race motorcycles on highways at night. Thai police have been battling dek vans gangs for years, occasionally setting up checkpoints to block the races.
According to Attawut, who did not give his age, Dunlow wants to show that not all dek vans gangs are troublemakers.
"We don't always cause troubles like most people think, and not every dek vans group is the same," Attawut explained, "There many dek vans groups that legally use the highways, including my group. We only race our motorcycles in the manner that respects the laws. We never block the roads on our own, like some other groups."
He also vowed to organize similar charity events in the future to honor His Majesty the King.
For comments, or corrections to this article please contact: [email protected]
You can also find Khaosod English on Twitter and Facebook
http://twitter.com/KhaosodEnglish
http://www.facebook.com/KhaosodEnglish