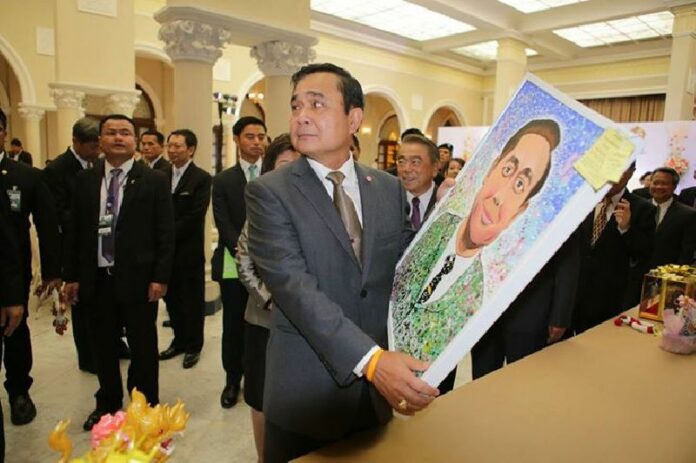 BANGKOK — Junta chairman and Prime Minister Prayuth Chan-ocha addressed Thai children in a televised speech last night on the occasion of Thailand's National Children's Day.
In the speech, which was broadcast on all state-owned TV and radio channels, Gen. Prayuth advised Thai children to strictly practice the "Twelve Values," and have a "correct understanding" of society.
"If we only learn about freedom and democracy, without learning about duty, or if we only focus on materials and technology, we will not survive," Gen. Prayuth said.
He also elaborated on the "lesson" for this year's Children's Day, which he penned last month: "Knowledge and morality will lead us to the future."
"We have to understand what knowledge is, how we can educate ourselves, either by personal education, formal education, leisure education, or out-of-school education," the junta chairman said. "Reading books, learning from experience, learning from facts, all these are knowledge."
He continued, "And what is morality? It is knowing what is good, and doing it. Don't do what is bad. Always act morally and think of other people. Be generous. As for 'leading us to the future,' if you are not moral people, and if you are not knowledgeable, you will be doomed. You won't have any certain future. You may be in jail, or lose your jobs, or become addicted to drugs."
"So think carefully on these lessons," Gen. Prayuth advised. "Knowledge and morality will lead us to the future. I don't want you to just memorize the motto and forget about it later, after you have gotten your prize or sung your karaoke."
Gen. Prayuth was referring to activities held at the Government House today, which include traditional art performances, a parade by the Prime Minister's bodyguard corps, karaoke booths, exhibitions about Thailand's neighboring countries, and a tour of the Prime Minister's office.
Other state agencies will also hold activities to mark the holiday. The main highlight will be military parade and display of weaponry by the Thai armed forces.
The Aeronautical Radio of Thailand Ltd., which oversees flights in Thailand, announced yesterday that flights to and from Don Mueang International Airport in northern Bangkok will be delayed due to airshows involving jet fighters of the Royal Thai Air Force over the facility's airspace throughout 10 January.
Some flights can be delayed up to 60 minutes, the agency warned.