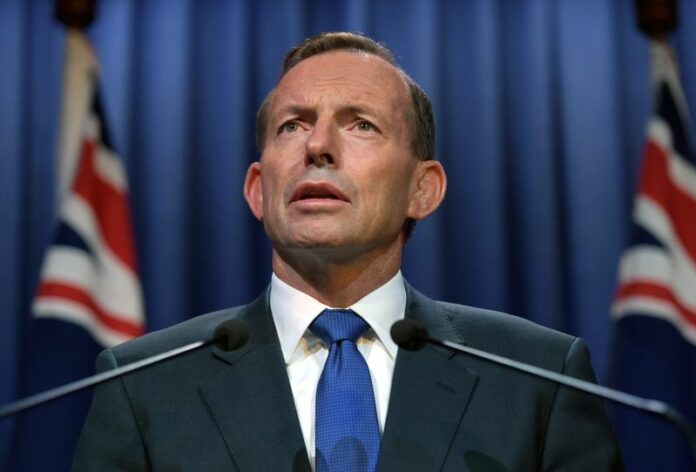 SYDNEY (DPA) — Australia said it will get tough on terrorism Monday with changes to laws to prevent citizens' involvement in militant groups and to curb so-called hate preachers.
Prime Minister Tony Abbott announced the measures after a government review of terrorism threats.
"Australia has entered a new, long-term era of heightened terrorism threat, with a much more significant 'home grown' element," the review found, a statement from Abbott's office said.
Amendments to laws would give authorities the right to revoke citizenship and cut privileges in the case of dual nationals.
"Those could include restricting the ability to leave or return to Australia, and access to consular services overseas, as well as access to welfare payments," Abbott said.
"We cannot allow bad people to use our good nature against us."
The measures include more government spending to develop a new counter-terrorism strategy, appoint a national counter-terrorism coordinator and change the terrorism-alert system.
At least 90 Australians are fighting for and supporting jihadist groups in Iraq and Syria, the review found.
More than 30 fighters are known to have returned to Australia, and at least 140 individuals living in the country are providing support for foreign militant groups, it said.
The Australian Security and Intelligence Organisation is investigating thousands of leads and people.
The government launched the review in August, saying it was concerned over home-grown terrorism. In September, the national terrorism alert level was lifted to "high."
In mid-December, an Iran-born Islamic State sympathizer took 18 people hostage at a cafe in Sydney. The siege ended more than 16 hours later, with three people including the gunman killed.
Earlier this month, two Sydney residents were charged with terrorism offences after a raid on their home. Authorities said the men were hours away from carrying out an attack in the name of Islamic State.
Critics of the government suggest it exaggerates the threat of terrorism to score political points as Abbott's popularity plummets.
"I think there's a real risk that he's doing this in order to play on community fears and thereby gain a bit of political popularity," Broadcaster ABC quoted human rights lawyer Julian Burnside as saying.
The government came under fire over the apparent failure of intelligence agencies to prevent the Sydney siege.
The perpetrator was reportedly a known radical preacher with a conviction for sending letters deemed offensive to the relatives of slain Australian soldiers, and faced several pending criminal cases.
For comments, or corrections to this article please contact:[email protected]
You can also find Khaosod English on Twitter and Facebook
http://twitter.com/KhaosodEnglish
http://www.facebook.com/KhaosodEnglish