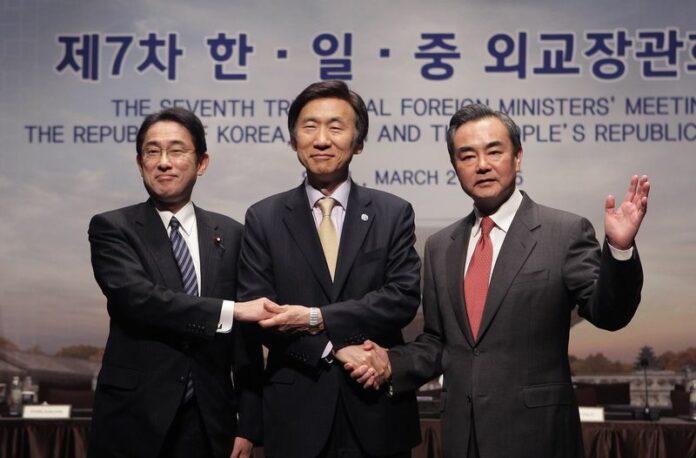 SEOUL (DPA) — South Korea, Japan, and China brought together their foreign ministers Saturday for the first time in nearly three years to try to strengthen their relations, which have been battered by territorial disputes and historical conflicts.
South Korea's Yun Byung Se, Japan's Fumio Kishida and China's Wang Yi expressed in a joint statement their hope that the "trilateral cooperation mechanism" would again go into effect. The mechanism formalized cooperation among the three countries, and a secretariat was established for it in 2011.
The ministers also indirectly called upon North Korea to cease developing nuclear weapons.
UN Secretary General Ban Ki-moon hailed the meeting, saying through a spokesman that he expected the leaders of the three countries to hold a joint summit "at an early date as agreed by the three ministers. He further encourages the concerned parties to work closely to promote mutual trust and future-oriented cooperation for the peace and prosperity in the region."
The United States has also been concerned about tensions between South Korea and Japan, two of its close allies, and have urged them to smooth things over.
Saturday's meeting between the three diplomats was the seventh such trilateral meeting and the first since 2012.
"For the three countries, the common history is not a question of the past, but a present problem," Wang told journalists in reference to World War II, in which Japan was an aggressor and colonized Korea and parts of China.
The three countries have close relations in trade and commerce, but South Korea and China have accused the Japanese government of trying to sweep war crimes under the rug, including the use of sex slaves for the Imperial Japanese Army.
South Korea said it believes Japan has not yet adequately reconciled this aspect of its history. South Korean President Park Geun Hye has so far refused bilateral talks with Japanese Primier Shinzo Abe.
Also a cause for concern are territorial disputes with China and Japan in contention over islands in the East China Sea and Japan claiming the rights over a South Korea-controlled island group called Tokdo by the Koreans and Takeshima by the Japanese.