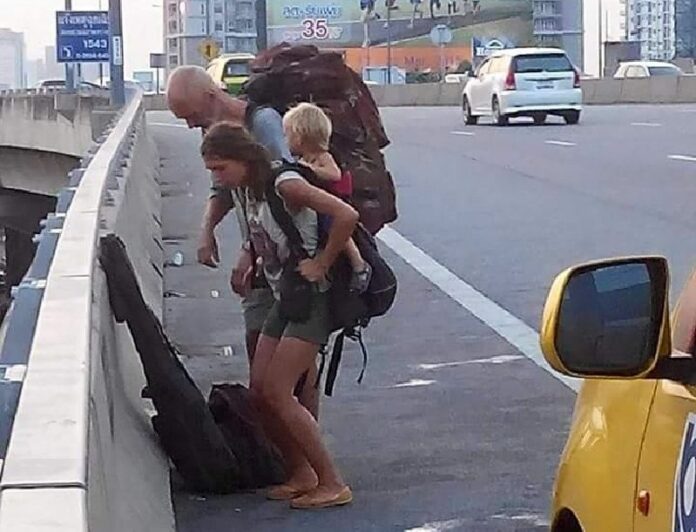 BANGKOK — The Expressway Authority of Thailand (EXAT) says it is investigating a claim that a taxi driver stranded a family of foreign tourists on a highway in Bangkok.
The allegation surfaced after a Facebook user named Surachai Hiranpraditthakul posted a photo (below) that purported to show a foreign couple and toddler being forced to get out of a cab on the expressway because their taxi driver took a wrong turn.
According to Surachai, the family hailed the cab from Suvarnabhumi Airport and asked to go to Rama IX Road, but the driver missed the exit on the expressway and did not want to look for another U-Turn, so he simply forced the passengers to get out.
"Aren't Thai taxis bastards?" Surachai wrote, "A driver kicked foreigners out on the tollway. Friends, don't only read this post. You can freely curse the [driver]."
Surachai said he received the photo from a traffic police officer who eventually hailed another cab for the family. He added that the tourists did not remember the name or registration number of the taxi driver.
An officer at Expressway Police 2 department told Khaosod the matter is being investigated.
An EXAT official confirmed that the incident "took place two to days ago." He said in a phone interview that the EXAT is urgently working to identify the driver.
"We are taking this seriously and investigating it," said the official, who asked not to be named. "If the taxi driver indeed left the passengers behind, it certainly constitutes a wrongdoing, because the driver did not take the passengers to the destination."
He added, "In the past, nothing like this has ever happened on the expressway before."