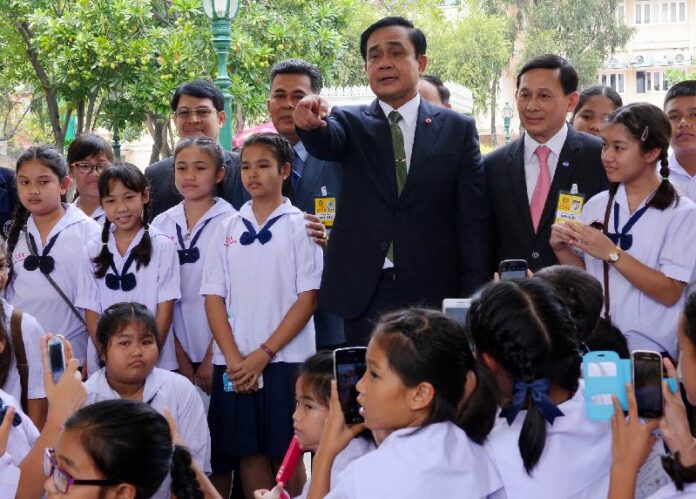 BANGKOK — The chief of the Royal Thai Army has threatened to take legal action against anyone who accuses the military of torturing four terror suspects arrested earlier this month.
Gen. Udomdet Sitabutr insisted that the allegation was untrue, and stressed that all security officers performed their duties without violating human rights.

Gen. Udomet Sitabutr at the Government House in Bangkok, 20 March 2015.
"Especially the action of harming suspects. We strictly do not do that," Gen. Udomdet said at a press conference today. "The security officers are willing to be investigated."
"It is necessary for the army to take legal action, even though I personally do not want to do that," Gen. Udomdet said. "Whoever does a wrong thing, they have to be investigated and punished. Whoever does a good thing, we support them. I will take legal action because the army has been falsely accused."
He was referring to the Thai Lawyers for Human Rights Center, which released a statement on 18 March accusing the military of torturing four men recently arrested in connection with an alleged "terrorism network" that plotted to stage bomb attacks in Bangkok.
According to the lawyers, the four suspects were tortured into making false confessions by military officers from 9 – 15 March, when they were held for interrogation at an army barrack. Under martial law, which was imposed by the military junta that seized power in the May 2014 coup, security officers can detain individuals without charges for up to seven days.
One of the four suspects, Sansern Sri-unruen, told Prachatai news that he was slapped, punched, and kicked by soldiers during the interrogation. He also showed burn marks on his legs that he said were from electrocution, which military officers reportedly applied "30-40 times" because he refused to confess.
Sansern and the three other suspects, Charnvit Jariyanukul, Norapat Luepol, and Wichai Yoosuk, have been accused of participating in a plot to "create chaos" and draw an intervention from the United Nations by staging bomb attacks around Bangkok. Police say the network was responsible for the grenade attack at the Criminal Court on the night 7 March. No one was injured in the explosion, which caused minor damages to the court's parking lot.
At least 17 arrest warrants have been issued in connection with the case so far.
Udomdet added that the Ministry of Foreign Affairs and the Ministry of Justice are currently working to extradite the alleged mastermind of the terror plot, a man named Manoon Chaichana who is believed to be living in the United States of America. Manoon has regularly uploaded videos under the pseudonym Anek San Francisco that criticize the Thai monarchy, a crime under Thailand's lese majeste law.
Meanwhile, junta chairman and Prime Minister Prayuth Chan-ocha said the torture allegation will be investigated by security officers, though he expressed skepticism that accusation is true.
"What can they gain from beating the suspects? They gain nothing. Everything depends on the evidence," said Gen. Prayuth, whom Gen. Udomdet replaced as army chief in October 2014. "I ask you, don't only look at the torture issue. Look whether they are really guilty. There's evidence of their phone usage, their money transfers, but these people only talk about torture. I want you to look at both things. Tell me who is right and wrong."