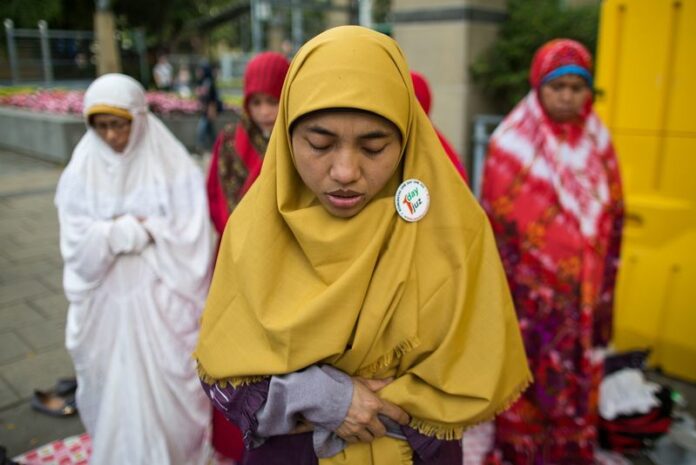 JAKARTA (DPA) – Indonesia will aim to stop domestic workers from going to 21 Middle Eastern countries over concerns about poor working conditions and abuse, the government said Tuesday.
The ban will be imposed on workers seeking to work for individual employers or families, not companies, said Manpower Ministry spokesman, Subhan.
"The most important reason is that there is still a lack of standard regulations in those countries, making Indonesian workers at disadvantage," Manpower Minister Hanif Dhakiri said on the ministry's website.
Hanif said domestic workers such as maids in some Middle Eastern countries were often subjected to unfair treatment and low wages.
"The government has the power to bar placement in certain countries if the jobs are considered to be degrading to the person and the nation's dignity," Hanif said.
Most Indonesian migrant workers are recruited as maids by labour agencies, which need a government licence. These agencies will be banned from recruiting people for domestic work in the Middle East, according to the government's plans
The countries affected by the ban, which is to come into force after a transitional period of three months, include Saudi Arabia, the United Arab Emirates, Bahrain, Egypt and Qatar.
Indonesia imposed a moratorium on sending domestic workers to Saudi Arabia and several other Middle Eastern countries in 2011 following a spate of abuse cases against maids.
The Manpower Ministry said employers in the Middle East often prevented Indonesian maids from returning to their home country even though their contracts had expired.
He also said maids were paid as low as 2.7 million rupiah (about 200 dollars) a month.
Last month, two female Indonesian domestic workers were executed in Saudi Arabia in separate murder cases, prompting diplomatic protests from Jakarta.
Indonesian workers send home around 7 billion dollars annually and form a major source of the country's foreign exchange incomes, according to the central bank.
More than 400,000 workers from Indonesia went overseas last year, including 100,000 to the Middle East, according to the Agency for the Placement and Protection of Indonesian Workers.
About 2 million Indonesians currently work in the Middle East, mostly as domestic workers.
Reporting by Ahmad Pathoni
For comments, or corrections to this article please contact: [email protected]